This week in Bitcoin News: Trump Hates Crypto
Volatility returned to the crypto markets this week, as Bitcoin (BTC) continued its sell-off and briefly dropped back below 10,000 USD. The biggest drop came on July 10th, when the BTC price dropped by 1,000 USD in an hour before recovering slightly and then dropping some more. By the end of the week, the price was hovering at around 10,000 USD, down from 13,000 earlier a few days earlier.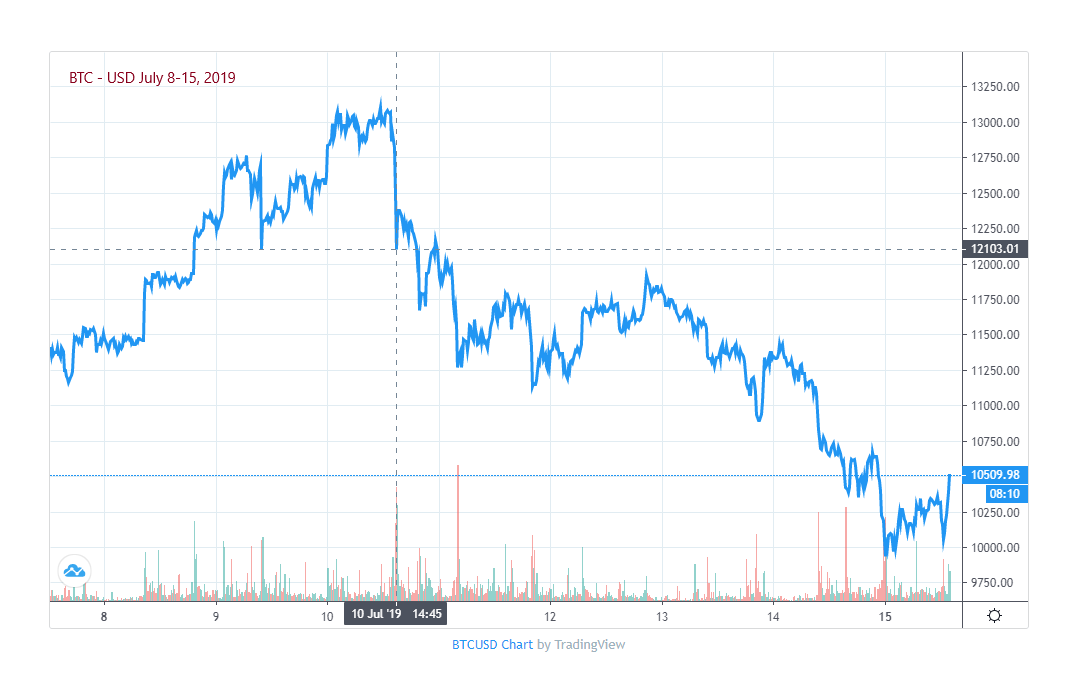 What's behind the drop? As always, there are a number of external factors that contribute to the state of the crypto market. While hype and new projects often cause a spike in price and garner new interest in buying Bitcoin, regulations and forecasts of doom cause the opposite. Much of the price rally that occurred last month could be attributed to Facebook's Libra announcement, as they prepared to enter the crypto sphere. But the reception to their future in cryptocurrency has been dampened, and that backlash has been coming from all sides. On the side of politicians, it seems that the US government is working as hard as it can to keep not only Facebook but big tech in general out of the financial sector, threatening to pass laws that will impose huge fines on companies that create digital currencies. On the other side, crypto enthusiasts continue to ask just how much of a cryptocurrency Libra really is. It seems like a lose-lose situation for the Zucc, and it's possible that the political consciousness that was suddenly paid to digital currency was behind the BTC drop.
Of course that awareness wasn't all bad. President Trump weighed in on the issue of cryptocurrencies with a Trump-like tweet that declared he was not a fan of cryptocurrencies, that they're not money, and that they're valued on nothing.
He went on (and on, and on), claiming that crypto facilitates crime, prompting reactions of pots and kettles and the US dollar's role in crime funding; and that Facebook will be on the receiving end of regulations should they move forward. If you're asking "How is that not all bad?" consider the adage that there's no such thing as bad publicity. In fact, people believe that Trump's tweet not only brought a huge amount of awareness to crypto, but also just effectively made it a 2020 election issue—so perhaps an upward swing is in our future as people start to buy Bitcoin in anticipation.
Bitcoin Adoption
While the United States may be exploring ways to impose regulations on cryptocurrency development, on the other side of the world, things are looking more welcoming. Georgia, already at the forefront of cryptocurrency use as a leader in crypto mining thanks to its cheap electricity, just announced that BTC transactions would be exempt from VAT. The exemption is not so much a nod to mass adoption, as the Georgian Lari remains the only accepted currency throughout the country, but it makes it easier to buy Bitcoin and invest and trade.
Last week Coinmama mentioned browser extension Lolli as one of the many ways to earn free Bitcoin. While the project distributes BTC as shopping rewards, they recently revealed that that's not their long game. As they partner with more and more high-profile retailers, such as Walmart and Hotels.com, and by extension (pun intended) making Bitcoin owners out of people who might not otherwise invest in it, Lolli is creating a large venn diagram of online shoppers and BTC holders. Their hope is that that venn diagram will eventually create a need for mass adoption among large retailers, as the vendors Lolli works with will see the utility in accepting it as a payment method. As crypto adoption by retailers has lagged recently after spiking in 2014, we're excited to see if their long-term plans are realized, and think there's huge potential in their plan.
Crime and Punishment
Recently we've seen a different crypto exchange hack every week, and last week was no different, with Japanese exchange BitPoint falling as the latest victim. They reported that 32 million USD worth of BTC was stolen from them, and have temporarily suspended service.
Over in Europe, cryptocurrency played a role in a large-scale bust of a fraud ring that ran fake broker scams. Though much of the bust (and the ring) was centered on binary and forex, whereby so-called brokers would convince people to deposit large sums of money into fake trading accounts with the promises of large returns, we would be remiss not to mention that crypto was a part of the breakup. At Coinmama, we recently took a deep dive into common Bitcoin scams and noted that fake brokers were among the top, so we'll use this crime ring as another reminder that you should always be wary of anyone claiming to be able to improve your Bitcoin portfolio, and that the safest way to maintain your investment is to control it yourself.
That's it for Coinmama's weekly news roundup. Join us next Monday as we take another look.