This Week in Bitcoin News: Steady Price, Low Volume
The Bitcoin price took a short-lived but sharp dip this week, dropping 300 USD in the span of about an hour, only to climb right back up less than a day later. While it tapered off a bit after that, with the exception of the U-shape in the middle of the graph, the BTC price remained fairly steady for another week. It began the week at 10,200 USD and ended it at just under 10,000 USD, indicating once again that 10,000 USD seems to be the sweet spot for now.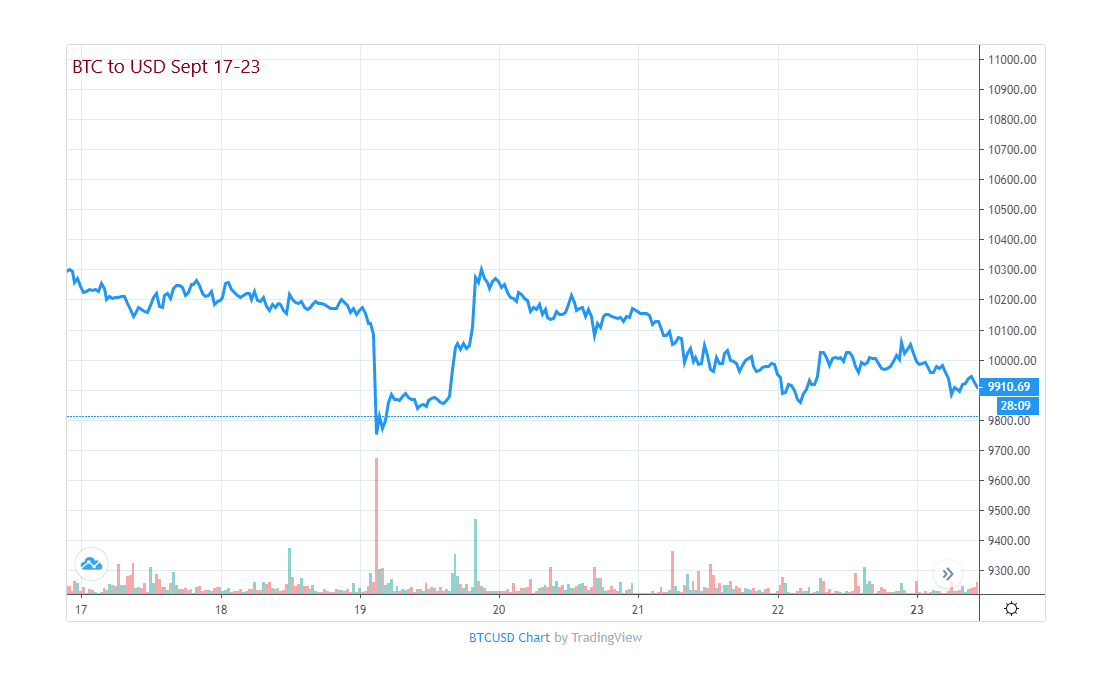 While Bitcoin price stability may be a welcome sight for many—especially considering that one of the biggest complaints about BTC is its volatility—it comes hand-in-hand with a decrease in trading volume. 24-hour trading volume maxed out at just under $20 billion this week, and spent most of the week in the $12-13 billion range. While so far the month of September has seen only one day reach trading volumes of $20 billion, the price spike in late June saw trading volumes of $44 billion. In other words, fewer people are looking to buy Bitcoin at the moment. It's something that may create stability now, but that very stability may cause big price moves in the future. In which direction? It's impossible to know.
How accurate is Bitcoin trading volume?
Speaking of Bitcoin trading volume, a new survey shows that reports of Bitcoin trading volume may be entirely inaccurate. Wash trading, the (very illegal) process of buying and selling the same coin in order to manipulate market data, may occur in up to 50% of Bitcoin transactions. While it's higher among altcoins than Bitcoin, and appears with less frequency in exchanges in countries such as the US and Japan, that news means that looking at trading volume for anything other in comparison to itself may be useless.
What's happening to Bitcoin dominance?
A few weeks ago we took a look at Bitcoin dominance, the share of the entire cryptocurrency market which Bitcoin holds. While in early 2018, among the ICO craze, altcoins (or alternative cryptocurrencies) and especially Ethereum, bit into Bitcoin's share of the market, recently Bitcoin has been holding steady as the crypto king, and even rose above 70% in early September. That reign took a (very) small dip this week, and Ethereum spent most of the week rising, so it will be interesting to see if the loss of Bitcoin dominance is just a blip, or a signifier of an altcoin comeback.
Bitcoin whale watch
It's always exciting to see the large BTC wallets and speculate about who holds them (and how great it would be if we just randomly found the private keys to them). Well, have fun speculating: a new report shows that there are 157,000 BTC wallets that hold 100,000 USD or more. True, 100K is far from what makes a Bitcoin whale, but it's still not small. We wouldn't mind getting our hands on one of those!
We're off next week, but join us in two Mondays for our next Bitcoin news roundup. We'll make it supersized!