September 2019 Bitcoin News Summary
In our August news summary, we observed that the combined value of all cryptos had reversed the considerable gains made during late June and early July. This downwards trend accelerated during "Sell-tember," with the total crypto market cap value returning to levels last seen in May of 2019. The major damage occurred on the 24th of September, when a massive red candle crashed through the $237 billion Support level to take the market down to its current $200 – $215 billion range.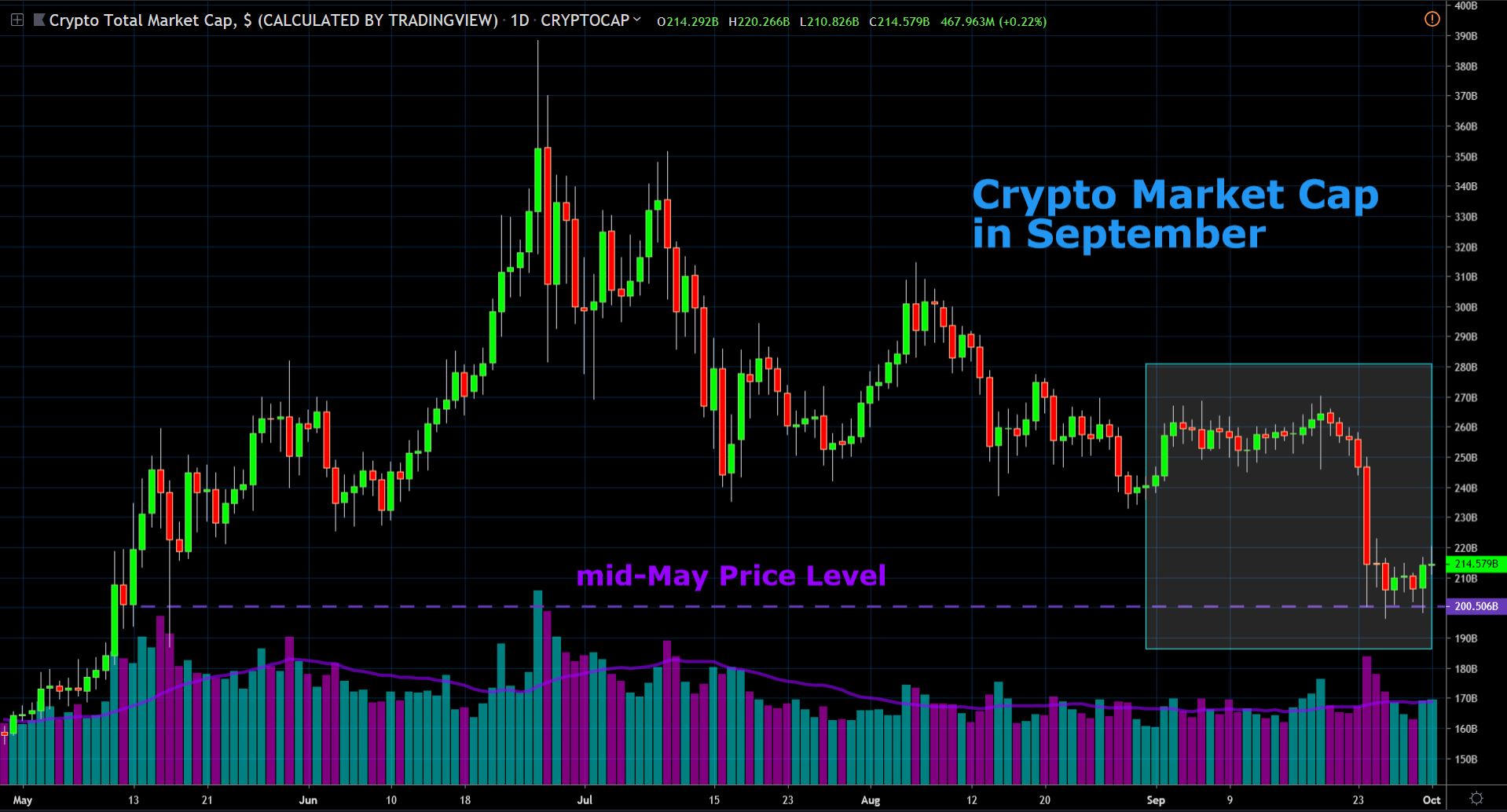 Daily total crypto market cap value courtesy of TradingView.
It is worth noting that the current range is at least double the year's low of $104 billion, set in early February. However, this level is approaching half of the $388 billion value set in late June. The crypto market is thus poised roughly halfway between its 2019 low and high points as we head into the fourth quarter.
As we've noted previously, Bitcoin is faring better than the general crypto market. While its price also collapsed in September, its current price level around $8350 is about 2.5 times its 2019 low of $3,360, also set in February. This relative outperformance is reflected by the Bitcoin Dominance Index, which reached 73.4% on the 6th of September; the highest level recorded since December of 2016. This level then moderated to its current value just below 70%.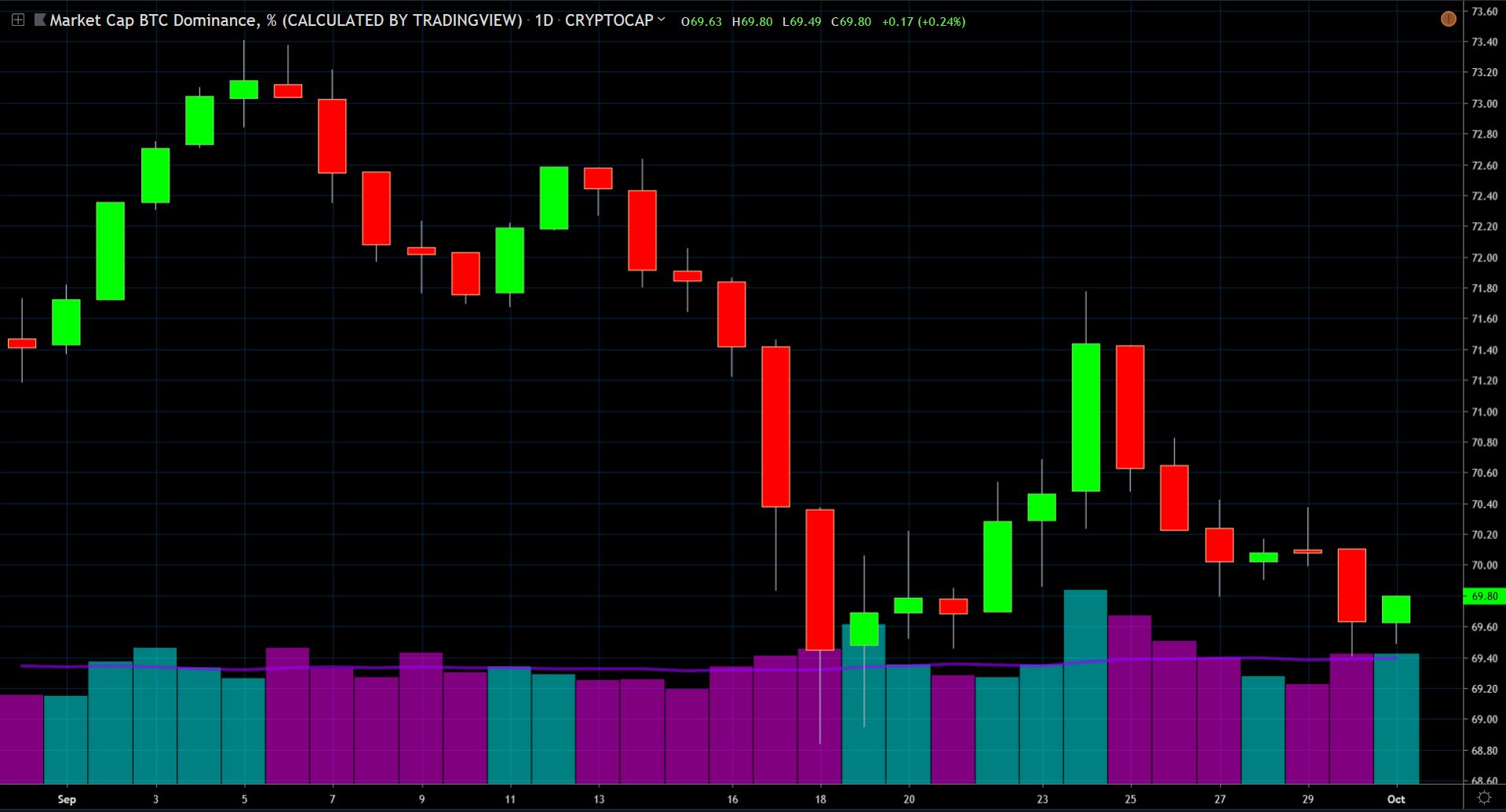 Daily Bitcoin Dominance chart courtesy of TradingView.
We mentioned the importance of the $9,400 Support level to Bitcoin's price in our August roundup. Sure enough, once this level was breached on the 24th, the devastating collapse followed. Bitcoin price tested below the $8,000 level a few times but this level has thus far provided support.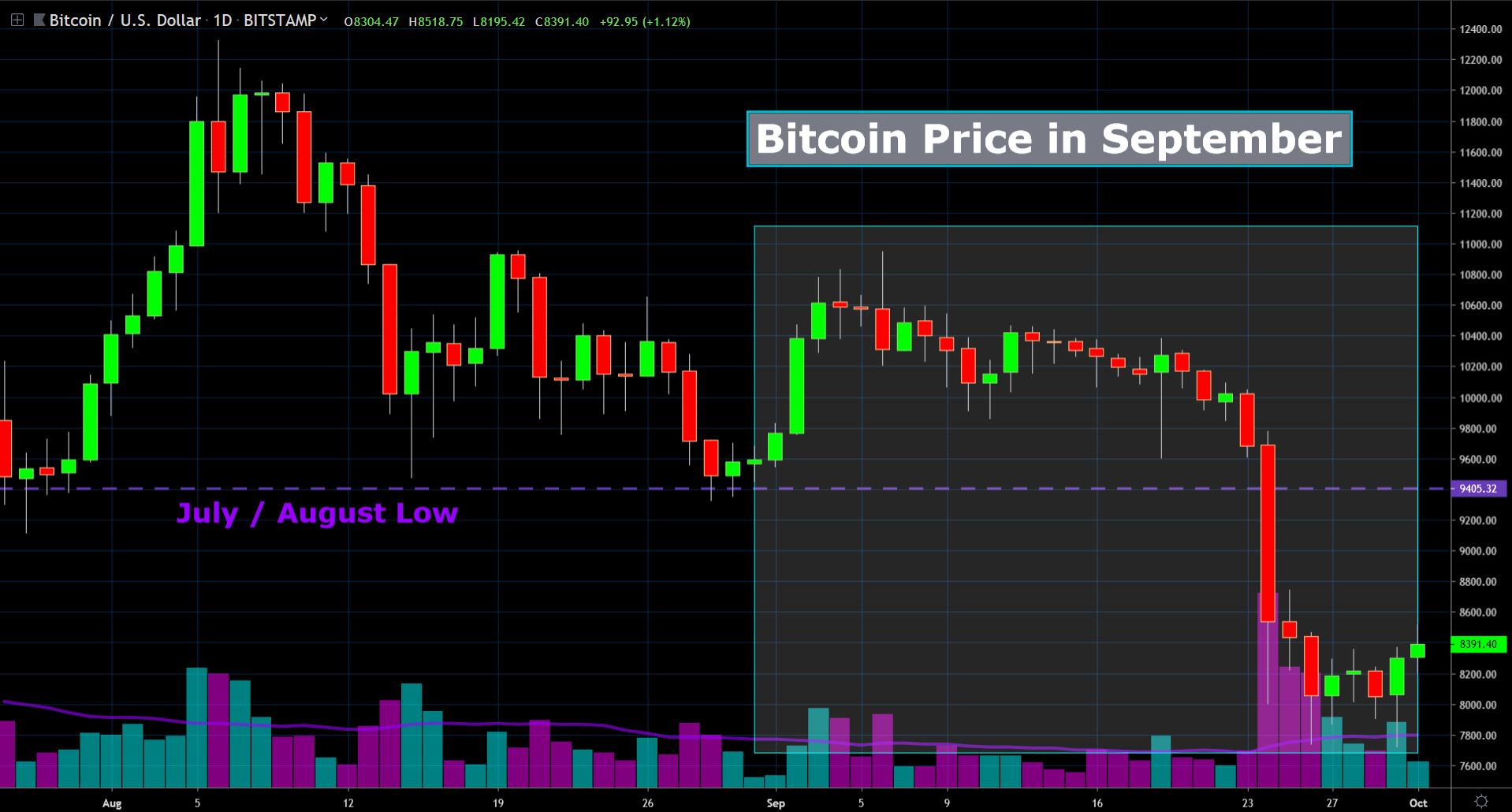 Daily Bitcoin price chart courtesy of TradingView.
As for why crypto markets dived in September, that seems more a result of market behavior than bad news. In fact, September's news flow was mostly positive. Here are the most important stories:
Crypto Mining
Bitcoin Hashrate Hits New High
Bitcoin's hashrate continued its climb in September, reaching a staggering 0.1 zetahash or 108.5 exahash (that's 108,500,000,000,000,000,000 hash calculations per second) on the 26th of February. This clearly demonstrates that while the price may be down, major long-term investment into mining is still occurring.


Bitcoin hashrate chart courtesy of Blockchain.com.
On the 23rd of the month, 3 days before reaching its all-time high, Bitcoin's estimated hash rate dropped by roughly 30%, down to 67 exahash. This perceived dip may have fueled fear in the markets, coinciding closely with the price crash of the 24th. However, as hashrate is estimated based on how quickly blocks are solved – and as random chance can lead to significant variance in block times – it's uncertain whether the dip was real.
Later in the month, Chinese crypto investor, Dovey Wan (and others), shared reports of a major fire in a major Chinese mining facility, rumored to belong to InnoSilicon. We await confirmation.
Bitmain's New Model Antminers Launched
On the 9th of September, Chinese miner and ASIC manufacturing giant, Bitmain, opened sales on the first batch of their new S17e and T17e Bitcoin miners. The company claims these are the most efficient SHA-256 ASICs to date. All units were sold within minutes of the sale's commencement.
Ethereum Network Problems & Solutions
Ethereum Fees Up Sharply
Ethereum users will have noticed that the cost to send transactions or interact with smart contract was markedly higher in September and that transactions were slower to confirm. The reason was network congestion.
Some simple Ethereum blockchain analysis revealed that Fair Win, a Chinese gambling game with alleged Ponzi elements, was consuming about 45% of Ethereum gas around the 20th of September. Gas is used to price the costs of interaction with the Ethereum network and fluctuates in accordance with computational demand.
Additionally, the US Dollar-pegged stablecoin, Tether, has been running partly on Ethereum's blockchain for some time now. Perhaps as a hedge against declining crypto prices, Tether is seeing increasing usage of late (having risen to 4th place in the crypto market cap rankings in late September) and so consuming a lot of Ethereum's bandwidth.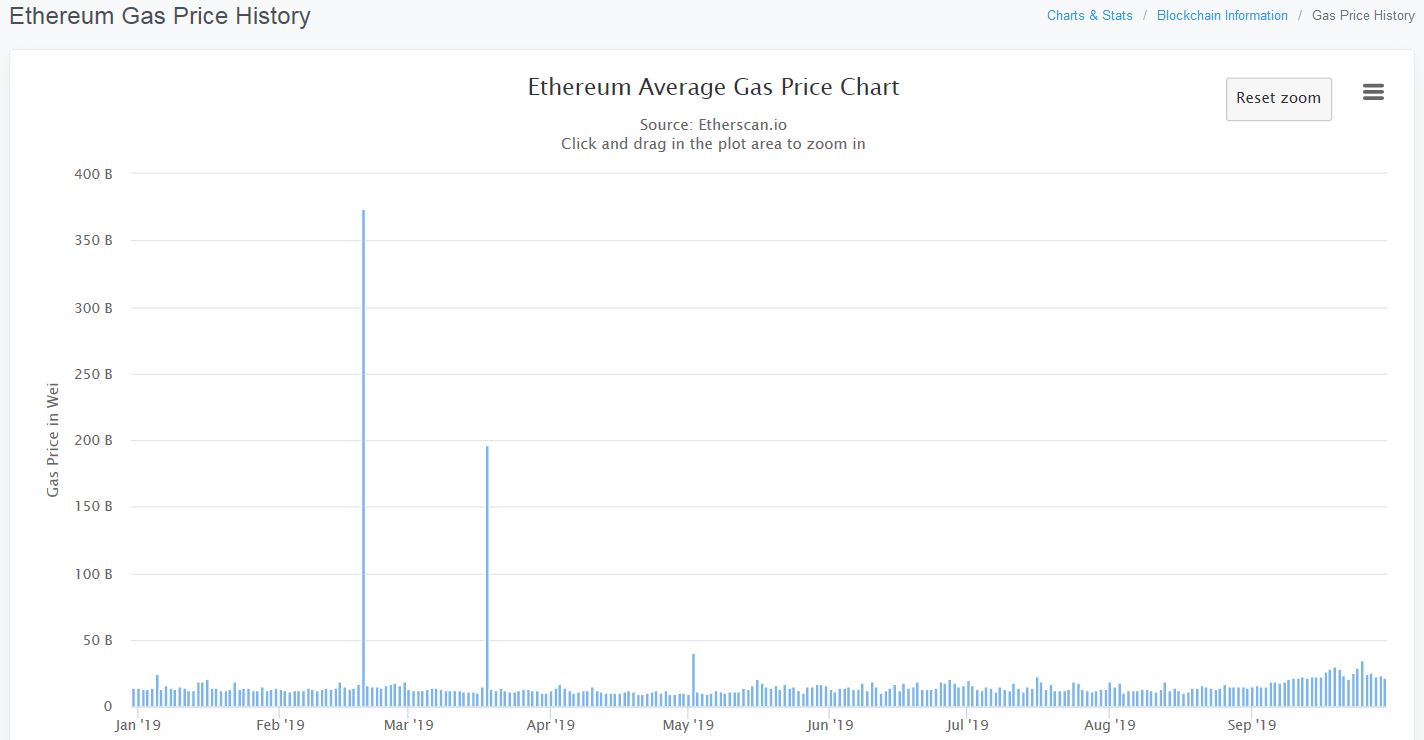 Disregarding spikes, there was a noticeable rise in gas prices last month. Chart courtesy of Etherscan.io.
In response to the rising gas prices, which were causing issues across Ethereum's economy, the gas limit was raised by the general consensus of Ethereum miners. Their decision is analogous to increasing blocksize in Bitcoin, and allows for more transactions to be included in each Ethereum block. Bigger blocks reduce competition for inclusion and so also reduce fees. The downside is that each new Ethereum block now requires 25% more dedicated storage space by those running full nodes.
Crypto Adoption
German Burger King Restaurants Now Take Bitcoin
It was announced around the start of September that meals from Burger King can now be paid for with Bitcoin in Germany. A new mobile app, launched by Germany's Burger King franchise and available for Android and iOS, allows customers to pay for fast food pickups or deliveries via Bitcoin, as well as traditional payment methods like PayPal. Burger King has been experimenting with cryptocurrency since at least April of 2017, when it announced its own crypto reward token, WhopperCoin, for use in Russian stores.
Bitcoin Now Sold at 6,000 New Stores in The Philippines, Including 7-Eleven
On the 18th, the Abra crypto company announced a new partnership, giving Filipinos the option to buy Bitcoin with cash at 6,000 retail outlets across the country. These new stores offering Bitcoin include the famous 7-Eleven chain of convenience stores. Users will be able to buy Bitcoin via a mobile app or in-store service kiosks.
25,000 New Stores in France Set to Accept Bitcoin
In further positive adoption news, it was reported on the 24th that over 25,000 stores across France will start accepting Bitcoin by the end of the 1st quarter of 2020. Many famous international retailers are among these stores, including Decathlon, Foot Locker, Sephora and more. With 10,000 tobacconists across France allowing people to buy Bitcoin and several altcoins for cash, it seems crypto is making serious inroads into French brick and mortar stores.
Crypto Company Buys Taringa! Social Network with 30 Million Users
It was reported on the 27th that IOV Labs has acquired the Taringa! network. IOV is the company behind Bitcoin's Rootstock layer, which allows Bitcoin to run Turing-complete smart contracts in much the same manner as Ethereum. Taringa! has over 30 million Spanish-speaking users, primarily in Latin America, and has already implemented Bitcoin reward. Further crypto integration is planned, to incentivize content creation and sharing.
Crypto Trading
Bakkt Institutional Bitcoin Exchange Finally Launches
On the 22nd of September, the long-awaited launch of the American Bakkt exchange finally occurred, after much regulatory delay. Bakkt is significant for being owned and operated by ICE, the same company which runs the New York Stock Exchange, and is partnered with Microsoft, Starbucks, and other big names. Bakkt offers Bitcoin futures backed (hence the name) 1:1 with bitcoins and caters primarily to institutional traders.
Bitcoin Trading Comes to the Second Largest Stock Exchange in Germany
It's not only America that is seeing fully-regulated Bitcoin trading integrated with traditional financial markets. The Digital Exchange of the Stuttgart Stock Exchange (BSDEX) launched Bitcoin trading on the 23rd of September. The new option is still in a limited test phase but will soon be expanded to include institutional investors. The exchange's CEO stated that he wants it to become Europe's leading trading center for cryptocurrencies.
Crime & Punishment
4 out of 5 Popular Bitcoin QR Code Generators are Fraudulent
If you're using an online QR code generator to receive Bitcoin payments, look out! A report published late August and picked up by the crypto press around the 6th, warns that 4 out of the top 5 search results for "Bitcoin QR generator" lead to coin-stealing scam sites. Rather than generating a QR code linked to the address you input, these fake generators return a code that leads to their operator's address. Avoid using such generators; instead download a trusted Bitcoin wallet that contains an internal QR code generator.
Vulnerability in Bitcoin's Lightning Network Discovered, Exploited, and Patched
At the end of August, Bitcoin developer Rusty Russell warned of a vulnerability affecting older implementations of Bitcoin's Lightning Network, which could lead to the loss of funds. Users were urged to upgrade before the vulnerability was fully disclosed on the 27th of September. It was later confirmed by the developer "Roasbeef" that real losses occurred due to the vulnerability. If you're running a Lightning node, ensure that it's upgraded to the latest version.
Crypto Regulation
Bitcoin ETF Finally Gets Approved in Limited Form
On the 3rd of September, the Van Eck / SolidX Bitcoin ETF (Exchange-Traded Fund) was approved by America's financial regulator, the SEC. Approved institutional investors will be able to buy shares linked to the price of Bitcoin via traditional stock markets. This is another sign of Bitcoin integration into traditional finance. However, a "true" ETF, available for purchase by retail investors, has yet to be approved. The first Bitcoin ETF was proposed by the Winkelvoss twins, back in 2013.
Crypto Geopolitics
BitPay Blocks Bitcoin Donations to Hong Kong Free Press
Bitcoin intersected with the ongoing Hong Kong democracy protests on the 10th of September when payment portal BitPay blocked Bitcoin donations made to the Hong Kong Free Press, an independent media agency that reports extensively on the protests. The media outlet's editor, Tom Grundy, tweeted that he was unable to access Bitcoin donations made over the prior 3 weeks, due to unexplained issues with BitPay.
France & Germany to Disallow Facebook's Libra, US Banks Skeptical
Facebook's proposed cryptocurrency, Libra, is getting a very cold reception from regulators. On the 13th, France and Germany both rejected Libra, issuing a joint statement that "no private entity can claim monetary power, which is inherent to the sovereignty of nations." France's Finance Minister urged that Libra be blocked from Europe as a monetary threat.
On the 30th, representatives from some of America's largest banks submitted a report to the Federal Reserve on Libra, warning that it could create a "shadow banking system" which undermines the US Dollar.