Coinmama News Roundup: The Return of the ICO?
Staying true to trend, the Bitcoin price returned to volatility this week after a week of relative stability. We've been saying for a while that it seems like BTC hits the rollercoaster every other week, so it was nice to see that at least for now, our predictions remain accurate. The Bitcoin price started out last week at 11,500 USD before dropping steeply to 9,600 USD by the middle of the week, and then slowly climbing back (with a couple of big spikes and dips) back to 10,700 USD. While the overall difference from the week's open to close wasn't that big, for those of you who buy Bitcoin in order to day trade, the week provided plenty of opportunity and fun.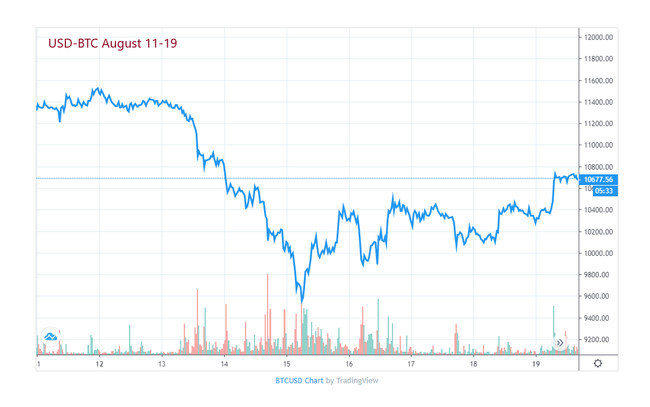 Are ICOs making a stealthy comeback?
ICOs—or Initial Coin Offerings, the extremely popular blockchain startup fundraising trend of late 2017—have been so quiet lately we almost forgot they existed. But just in the past week or so, they've come back out of the woodwork. First there was the news that 80% of ICOs failed. It's a number that sounds scary and overwhelming at first glance, but when you take a closer look, it's fairly similar to the number of startups that fail. The big difference here? While traditional startups raise funds from a small number of big investors, only opening up to everyone once they go public (and therefore have already proven successful), ICOs turned to crowdfunding from the get-go, offering tokens, or currency in the company, in exchange for funds. It meant more people were able to invest in more projects and to get in on the dream. At the same time, it meant people were both fundraising and investing at very early stages, doing so based mainly on hype and less on the experience of project leaders or viability of the project itself. As a result, when many of the ICOs inevitably failed, it was everyday crypto investors who felt the pain.
But in contrast to the death of the ICO report—which frankly, sounds a little bit like all the times Bitcoin supposedly died—several stories lately have touted the return of the ICO. And recently, Telegram, the blockchain-based encrypted messaging app, started a limited public sale of its tokens after previously being available only to private investors. But while Telegram says those tokens can't be resold, they're now appearing on exchanges anyway, showing that people are still willing to invest in ICOs.
Bitcoin Rules and Regulations
Bitcoin ATMs, one of the traditional ways to buy Bitcoin anonymously, are becoming more regulated, at least in Nevada where owners will now be required to have a money transmission license.
And the IRS's letter last month to crypto holders in the US asking them to please step up and report their earnings was just the first step. It looks like they're back at it continuing their crackdown and aiming their wrath at people who may have misreported. It's bad news if you buy Bitcoin in the US, especially since the tax guidelines on how to report your BTC earnings aren't exactly clear.
We'll be back next week to see if the Bitcoin price has stabilized, and what fresh regulations are in store for crypto!