Bitcoin News: The Bitcoin Price is Haywire
We haven't had a Bitcoin news roundup in two weeks, and it's safe to say that things have gotten interesting in that time.
A Bitcoin price that's haywire
We'll admit it: we got a bit cocky in our talk about the Bitcoin price recently. After four months of relatively steady prices and BTC sitting near 10,000 USD, we declared that Bitcoin price volatility was over and that 10,000 was a new standard. Boy, were we wrong!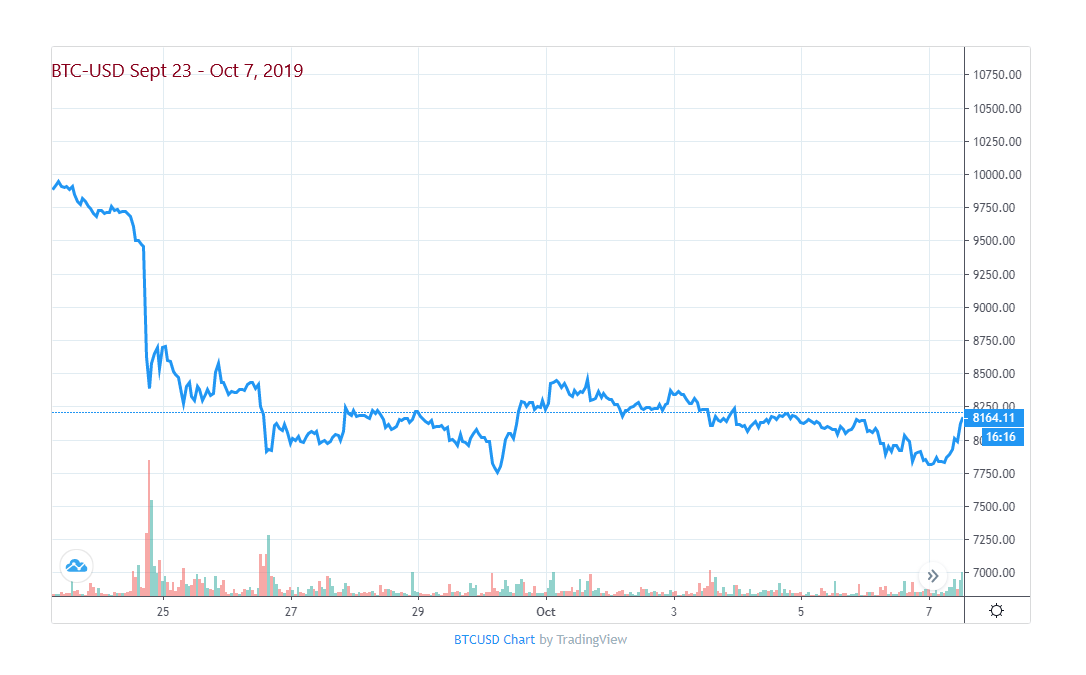 On September 23, the BTC price dipped below 10,000 USD without recovering. A day later, on September 24, Bitcoin experienced a sharp drop, falling over 1,000 USD over the course of an evening to below the 8,500 mark. Over the next few days, the Bitcoin price would even drop below 8,000 USD—a rate that hasn't been seen since early June. In other words, price volatility seems to have returned.
Of course, these drops should be taken with a grain of salt. Bitcoin is still up 100% over where it was at the beginning of 2019, so investors have a bit of time before they need to worry. We took a look last week at Bitcoin price predictions; feel free to make your own!
Good news for Bitcoin adoption
At least one CoinMama spent the better part of her teens at the Mall of America (AKA, the biggest mall in the United States), so we were excited to see that Bitcoin strides are being made there through Flexa, the Winklevoss Twins' Gemini-backed payment platform. Flexa will be participating in the Mall's new Modern Retail Collective, which allows several smaller stores at once to showcase new and evolving retail technology. What does this mean for Bitcoin? While it's not making its way into the entire Mall of America quite yet, it will be accepted at the stores participating in the Modern Retail Collective.
Better news for Blockchain adoption
Bitcoin couldn't exist without blockchain technology, and it's been a big week for Blockchain, with some well-known players entering the game. Walmart is making use of the technology's usefulness in supply chain tracking by announcing it would use Blockchain to track its shrimp supply. Meanwhile, over at furniture giant IKEA, an Ethereum smart contract was used to fulfill an order.
Bad news for Bitcoin Miners
Bitcoin mining is only as profitable as the Bitcoin price minus the cost of equipment and energy, so Uzbekistan's planned price increase on electricity for Bitcoin mining is a blow to them and to the mining economy. On the one hand, it feels unfair to single out the crypto community for an increase. On the other hand, with climate change posing a very real threat, we have to admit that sometimes Bitcoin mining seems environmentally unsustainable.
And in other bad Bitcoin mining news, a Bitcoin farm with $10 million worth of Bitcoin mining equipment caught fire this week, affecting the hash rate. While machines reportedly continued to run, it's not yet clear how the equipment was affected.
We're off the next two weeks, so join us in three weeks for a massive roundup. We'll take a look at the Bitcoin price and how the interim weeks have affected its volatility.