Bitcoin News: Is a BTC ban possible?
Crypto winter may have given us a Bitcoin price most of us would rather forget, but one thing it did offer was stability—of course it's questionable if anyone was actually trying to buy Bitcoin at that time, as the average trading volume was only 5 billion USD per day. But looking just at the price action, from December 1, 2018 to March 30, 2019, the BTC price stayed within an 1100 USD range, going long stretches with only 100 or 200 USD price jumps and dips. Winter was an impressively quiet time for BTC, which is known for its volatility.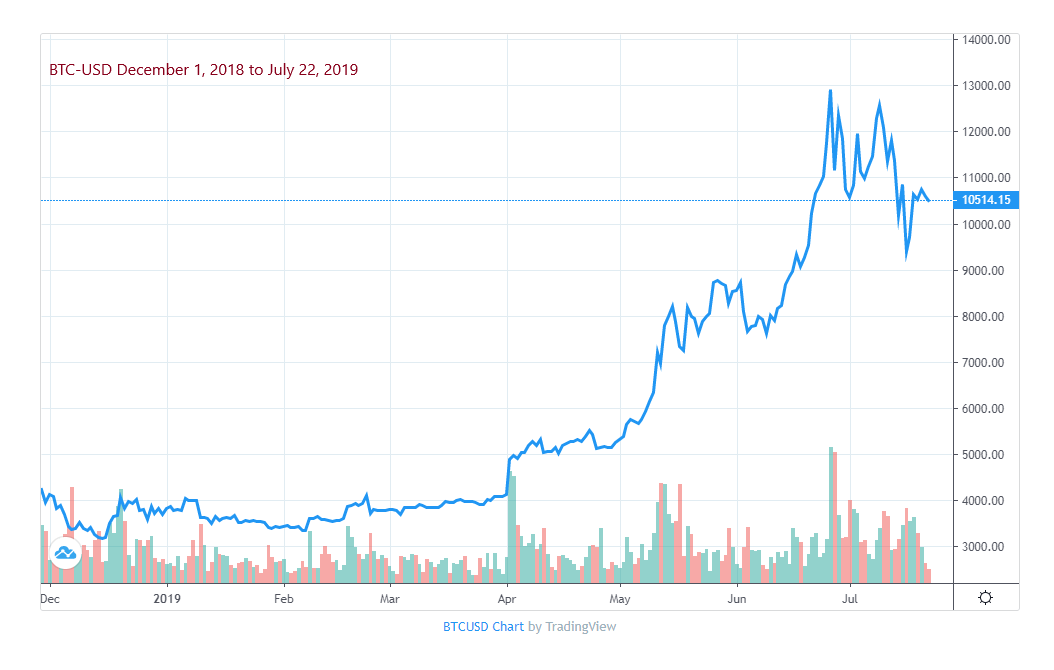 Bitcoin Price Volatility: The New Normal?
Contrast those four months with the past week, when the Bitcoin price went from 11,000 USD down to 9,100 USD, and back up again, or to the four months following that quiet period, which saw a low of 4,000 USD and a high of over 13,000 USD, and that previous stretch is almost unimaginable. So what is causing the current volatility?
As we've discussed before, the Bitcoin market is affected by several factors, including hype and regulations. And part of that hype is a chicken-egg effect. As more people buy Bitcoin, the price increases, and then the hype increases, thus drawing even more people into the market. Add to that other factors such as ongoing debates about Facebook's Libra and the question of whether or not the US could instate a ban on crypto if it wanted to, and it's no wonder the Bitcoin price is jumping all over the place.
A US Ban on Crypto?
Which leads us to the next question: Could the United States ban crypto? Trump declared he was not a fan, but how far is he willing to take it? Noelle Acheson over at Coindesk asked that question a few days ago in a fascinating read, which looked at whether the code is free speech and if a ban on Bitcoin would be constitutional. Her conclusion is that ultimately, banning crypto isn't in Trump's best interest, regardless of the constitutional factor. Of course Trump's unpredictability needs to be factored in here, but right now, US Bitcoin holders (and international ones as well, seeing as the US market is a substantial one, and a ban in the US would likely have a huge impact on price) don't have too much to worry about.
Will India Ban Bitcoin?
In other news of bans, there's India. A few days ago the Indian government declared it's not banning cryptocurrency, despite a rumored draft of a bill circulating that would crack down on cryptocurrency traders and even threaten up to ten years of jail time. Today it seems to have changed its mind on that position, and is recommending the Bitcoin ban. Whether that actually goes through or not remains to be seen, but it of course raises important questions once again on the implications government bans could have on the global currency. Bitcoin was always positioned as an alternative to big money, to the corruptness of banks and governments. What power exactly governments have to stop that, and how it will affect the currency remains to be seen.