A Slow Week for Crypto News Means a Steady Bitcoin Price
The Bitcoin price remained remarkably steady this week—its week-long range was between just under 11,250 USD and just over 12,250 USD—showing once again that BTC's relationship with volatility is on-again, off-again. The stability actually seems to be leaving BTC price analysts confused. While extreme highs and lows can often be attributed to outside forces, and bring out declarations of bears and bulls as well as ample finger-pointing of where the market is headed, a steady Bitcoin price doesn't leave much room for speculation. It seems though that market volatility returns every other week, so it will be interesting to see if there's a big rise or fall in the week to come.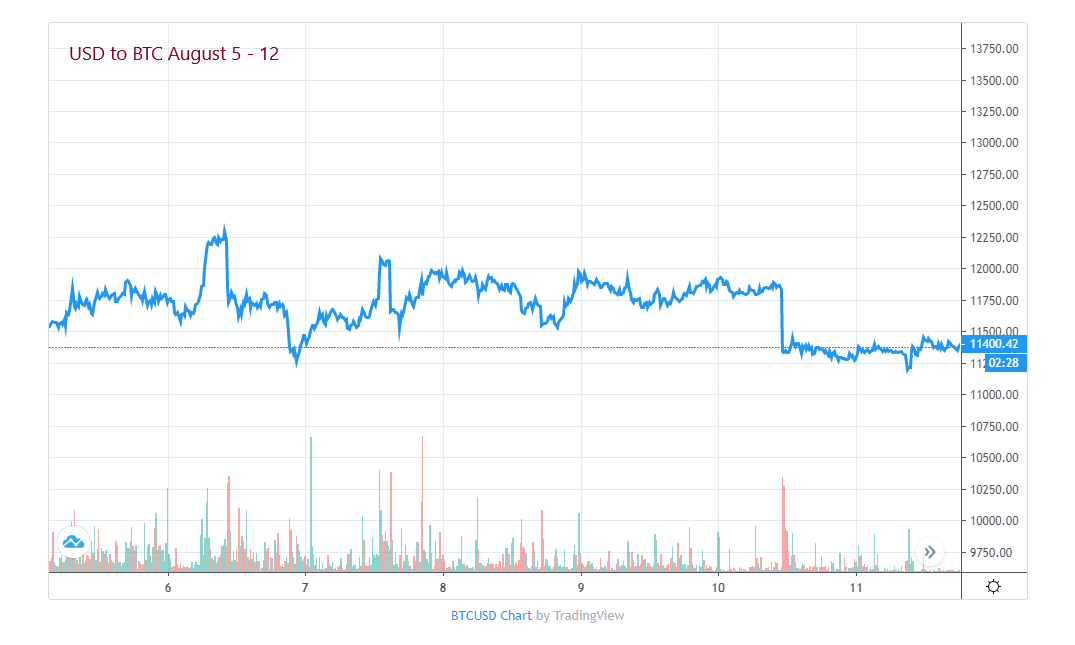 Speaking of stability, what affects the Bitcoin price?
We took a look at the role stablecoins play in the crypto economy not too long ago. Now a report shows that 80% of available Tether (USDT) is held by only 318 addresses. The question now is whether the owners of those 318 addresses are able to use their holdings to manipulate the crypto market. At least one person says yes, even pointing towards Bitcoin's astronomical climb in late 2017 as the result of market manipulation. Perhaps when market volatility inevitably returns and the Bitcoin price jumps or drops, we'll know where to look for explanations.
Bitcoin scams
Most weeks our coverage of cryptocurrency crime skews sad, covering hacked exchanges, exit scams, and massive losses of customer funds. So we were especially delighted to see this story of a Bitcoin scam comeuppance, in which a Canadian crypto educator was approached with an obviously fake, too-good-to-be-true investment opportunity. He asked the scammers to send him $100 just so he could know it was a legitimate operation, with the promise of investing $20,000 if it was. The scammers sent $50, which he then donated to charity. This type of fake investment scam is one Coinmama sees a lot of: people promising high returns if you buy Bitcoin and send it to them to invest, or offering to double your money. We're doing our best to fight scammers, but it's a good reminder that you can never be too careful—even if this particular story was one with a happy ending.
Rules and regulations
The future of Bitcoin in India seems to be up in the air at the moment, with the country's parliament set to vote on the legality of cryptocurrency. If the bill passes, crypto may be banned completely, and anyone who not only buys Bitcoin but also holds it could be sent to jail. The bill won't be voted on until late this year or January of next year, but it's still a daunting prospect for cryptocurrency holders. How that vote will affect the Bitcoin price, or the coins currently held by the country's residents, remains to be seen.
In other regulations news, the different ways countries handle taxes shows just how new and not yet understood cryptocurrency still is. Israel, for example, is taxing BTC holders, yet isn't letting those same investors deposit funds gained by Bitcoin into their bank accounts for fear of getting mixed up in dirty money. We hope the process gets sorted out soon, but for now it appears that Bitcoin investors in Israel are required to pay taxes but without the means to do so.
Sometimes a slow news week is a good thing, and this is how this past week felt for Bitcoin. Join us again next week as we take another look at crypto news.