Happy Birthday Bitcoin! A Look-back at 11 Years
Eleven years ago today, at the height of the financial crisis, an anonymous person (or perhaps a group of people) going by the name Satoshi Nakamoto published a whitepaper. It was the beginning of Bitcoin.
Since then, both the original coin and cryptocurrency in general have evolved into the global currency we know and love today. In honor of 11 years, Coinmama is taking a look at both the highlights and the missteps in the coin's history.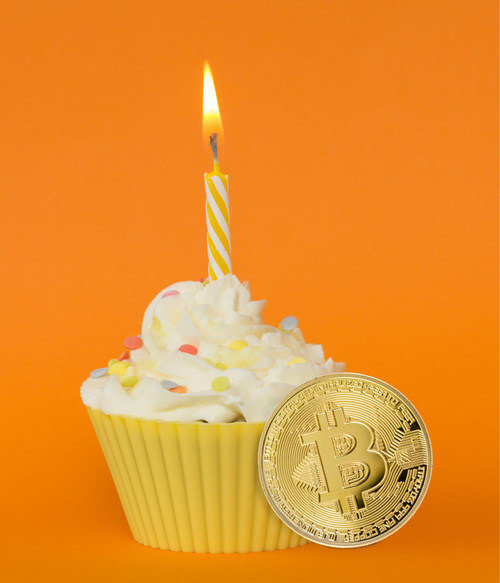 A brief history of Bitcoin
General wisdom dictates that Bitcoin was not only born during the financial crisis, but also as a result of it. As the big banks saw massive bailouts saving them from their own crimes, people grew more and more distrustful of big banks and of government-run financial systems. They began looking for an alternative that would put them in control of their own economy. Satoshi Nakamoto provided that alternative, with a peer-to-peer currency that would circumvent governments, transcend borders, and be accepted globally.
The Bitcoin Evolution
While 11 years ago, Bitcoin was merely a whitepaper—an idea—since then, it has become a currency and an asset with a market cap of $167 billion, and 24-hour trading volumes of $26 billion. How did we get where we are today? Below are some of the highlights.
August 18, 2008: The Bitcoin.org domain name is registered.
October 31, 2008: Satoshi Nakamoto posts his whitepaper, Bitcoin: A Peer to Peer Electronic Cash System, to a cryptography mailing list.
January 3, 2009: Satoshi Nakamoto mines the Bitcoin genesis block, with a reward of 50 Bitcoins. Though he disappeared by 2011 and his true identity still remains a mystery, he is thought to have mined 1 million Bitcoin. Should that stash be cashed out, it would be worth $10 billion today.
May 22, 2010: Bitcoin is used to buy goods for the first time when Laszlo Hanyeczs pays 10,000 Bitcoin in exchange for having two Papa John's pizzas sent to him. Bitcoin is officially a currency, albeit one that is valued at about $0.0041.
February 2011: The Bitcoin price reaches $1.00.
October 2012: Bitcoin payments processor BitPay reports that over 1,000 vendors and merchants now accept Bitcoin as payment.
November 28, 2013: Bitcoin crosses the $1,000 mark for the first time.
2014: Following Bitcoin's quick price gains, more merchants begin accepting Bitcoin for payment, including large online retailers such as Overstock.com and Newegg.
February 2015: The number of merchants now accepting Bitcoin as payment crosses 100,000.
November 28, 2017: At the end of an astronomical year, the Bitcoin price reaches $10,000 for the first time. A little more than two weeks later, it would double, briefly reaching $20,000 before falling again.
April 2019: While the Bitcoin price would fall after its impressive peak, and only a year later Bitcoin winter would see prices in the $3,000 range, by April, 2019, the price began its recovery, and in June, 2019, would even spike to $13,000.
Fall 2019: With some minor bumps along the road, Bitcoin sees some of its steadiest prices, with the BTC price hovering near $10,000 for several months.
October 31, 2019: On Bitcoin's 11th birthday, the BTC price sits at slightly above $9,000. An increase of more than 200,000,000%.
Happy 11th Birthday, Bitcoin. We couldn't be more proud of you.