5 Times Bitcoin Died: the BTC Obituary
The Bitcoin price (BTC) took a dive this week by over 6% in the past day, along with a drop of 500 USD in the span of an hour yesterday evening, leaving some people worried that cryptocurrency was once again dying. Big drops are naturally worrisome to people who buy Bitcoin, as they signal a decrease in the value of their investment. They also bring the naysayers out of the woodwork: the people who want to declare Bitcoin as the product of a bubble, and who want to shout about its death.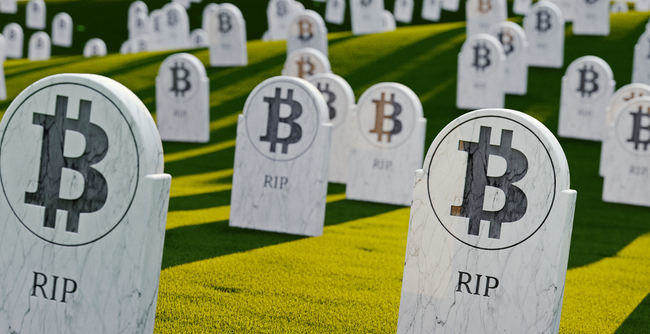 So far, Bitcoin has survived for a decade. And while the Bitcoin price has been volatile at times, it has also, remarkably, shown a general upward trend despite its occasional extreme highs and lows. In other words, it's always come back from the "dead." So in honor of this latest mini-drop, here's to proving the naysayers wrong, with five times the Bitcoin died, and was resurrected.
5 Bitcoin obituaries that were wrong
The Bitcoin obituary has been a favorite past time of economists and spoilsports for almost a decade now, with no signs of stopping, and the five obits above are just a small sampling of the many, many times people have declared the cryptocurrency on its last breath. As the price remains relatively steady—and high—it will be interesting to see if any others retract their words and admit that they were wrong.