How to Buy Litecoin
Litecoin (was launched as a fork of Bitcoin way back in October 2011, making it the oldest altcoin in the top 10 market cap rankings. Litecoin is a decentralized cryptocurrency with an engaged community, fairly widespread adoption, and the fourth highest network security, according to 51crypto.
This guide will walk you some of the more important facts regarding Litecoin. It covers the selection of a Litecoin wallet, for storing and spending your litecoins (LTC).We also explain how to use Coinmama to buy Litecoin, which is a really quick and easy process.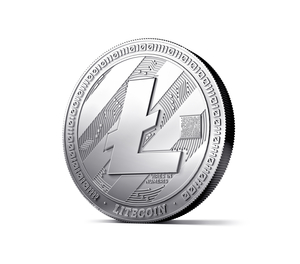 Litecoin vs. Bitcoin
Litecoin has embraced its origins as a Bitcoin fork and, rather than seeking to replace Bitcoin, is often marketed as "silver to Bitcoin's gold." This has led to a friendly and cooperative relationship between the Bitcoin and Litecoin communities, to the benefit of both.
Litecoin's code remains closely synced to Bitcoin, although it differs significantly across three fundamental properties:
1. Mining Algorithm
Litecoin uses the scrypt algorithm rather than Bitcoin's SHA-256. It's debatable whether this has led to a more fair early distribution of coins than Bitcoin, but one definite advantage is that the enormous SHA-256 hashrate is unable to be used maliciously against Litecoin.
2. Issuance Limit
A maximum of 84 million LTC will be created, four times more than the 21 million BTC limit. For economic reasons discussed in our recent article of Bitcoin's supply limit, this helps to keep full LTC units more affordable than Bitcoin.
3. Faster Block Times
A new Litecoin block is mined every 2.5 minute on average. This is four times quicker than Bitcoin's 10 minute average block time. Although faster block times don't improve security, they do serve to ensure faster initial confirmation times and to keep transaction fees down. Another feature of quicker block times is that Litecoin's mining Difficulty changes more rapidly.
Litecoin's History
Litecoin was created by former Google and Coinbase developer, Charlie Lee. Lee implemented the scrypt algorithm in Litecoin to allow for mining Bitcoin and Litecoin simultaneously, although this is no longer possible. Litecoin had a fair launch, with only a tiny pre-mine of 150 LTC.
Litecoin became popular among amateur miners, who were being displaced from Bitcoin mining by the rising dominance of ASIC mining hardware. Litecoin's ASIC-resistant scrypt algorithm initially restricted profitable mining to high-end graphic cards. However, in mid-2014 ASIC scrypt miners were released and have since become standard.
Litecoin's Adoption
Although not nearly as well-known or widely-used as Bitcoin, Litecoin's long history has made it a staple of the cryptocurrency world with considerable merchant adoption. Litecoin regularly achieves higher trading volumes and more transactions than coins with larger market caps, such as Bitcoin Cash.
In an August 2018 interview on the CNBC Fast Money show, Charlie Lee claimed that adoption is "surging" despite bearish market conditions.
In mid-2018, the Litecoin Foundation acquired a 9.9% stake in Germany's WEG Bank AG. This partnership may pave the way to mainstream financial services for Litecoin.
One surprising aspect of Litecoin adoption was published in a February 2018 report by Recorded Future. Their research found that Litecoin is the most popular currency after Bitcoin for darknet market transactions. This is despite Litecoin having little in the way of privacy features.
Litecoin's Development
Litecoin's development process is considerably more nimble than that of Bitcoin. This was demonstrated when Litecoin successfully implemented the Segregated Witness (SegWit) upgrade in May of 2017. SegWit was originally proposed for Bitcoin but its implementation was stalled due to political wrangling, only activating 4 months after its Litecoin integration.
As a result of SegWit integration, Litecoin is able to implement Bitcoin's exciting new Lightning Network technology, in a manner which is cross-compatible with Bitcoin. This ensures that Litecoin will remain on the cutting edge of cryptocurrency innovation.
Litecoin's reliance on Bitcoin's codebase does have a downside, that being the duplication of vulnerabilities. For example, Litecoin was also exposed to a serious bug recently discovered in Bitcoin's code.
Litecoin's Decentralization
In December of 2017, Charlie Lee sold all his LTC. In so doing, Lee sought to avoid any conflict of interest between his leading role in Litecoin (specifically as the Managing Director of the Litecoin Foundation and Litecoin code contributor) and his personal financial holdings.
Lee remains highly influential in Litecoin and the crypto space, with regular media appearances and nearly 800,000 Twitter followers. Lee comments regularly on the state of the crypto space as part of the Magical Crypto Friends talk show.
According to the current stats on Litecoinpool.org, Litecoin's hashrate is fairly well distributed among 5 major mining pools: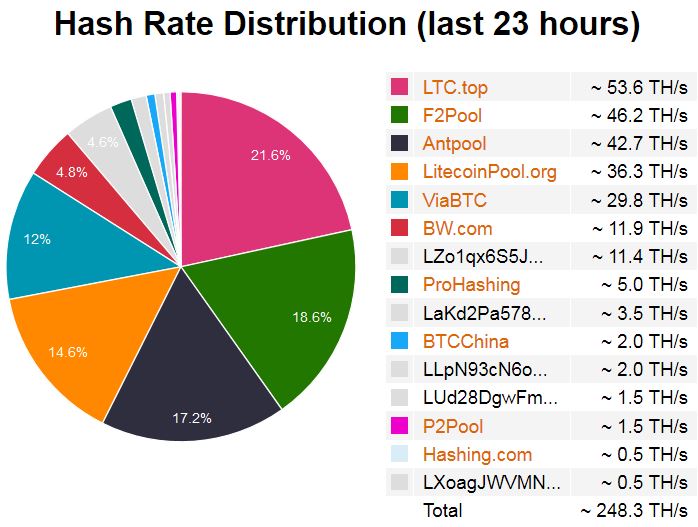 Choosing a Litecoin Wallet  
If you already have a good Litecoin wallet you can skip this section.
Otherwise, you might be wondering why you even need a Litecoin wallet? Well, using our service is a bit like using a vending machine. You put your money in and Litecoin comes out – but you first need a way to receive your dispensed litecoins. This is what a Litecoin wallet does – lets you receive and store LTC, as well as spend it.
There are 4 types of wallet to choose between, listed in order of decreasing security:
1) Hardware Wallets
This is a specialized electronic device you plug into your computer or phone. Hardware wallets greatly improve the security of your Litecoin storage but cost around $100, whereas other wallet types are free. Hardware wallets, like the Trezor, Ledger, or KeepKey all support Litecoin, Bitcoin, and other cryptos. They can be combined with compatible models from the other wallet types listed below.
2) Software Wallets
Also known as desktop wallets, these run on your laptop or desktop computer. With proper computer security practices and a good password, they're quite secure. There are two main varieties of software wallet; full or light.
Full software wallets download and sync the entire blockchain, which takes some time and hard drive space but requires less trust. Litecoin Core is the closest thing to an "official" wallet.
Light software wallets require no extra space or delays but rely on third-party servers for information. The Electrum Litecoin wallet is a good choice.
3) Mobile Wallets
This kind of wallet runs on your smartphone or tablet. Such wallets are convenient for making in-person transactions but not very secure, due to the low-security nature of mobile operating environment. LoafWallet is a good option for Android or iOS.
4) Web wallets
Web wallets run on a third-party websites, which you log into for access. Web wallets are the riskiest type of wallet, as they depend on the site staying online and resisting the efforts of hackers or evil insiders to steal your coins. The better ones allow shared control over your coins.
Tip: choose your wallet type according to the level of security which you feel is appropriate to the amount of Litecoin you intend to purchase.
Once you've decided on your wallet type, it's very important to choose a trustworthy wallet from that category. Any wallet listed on the Litecoin.org site should be safe. Some research conducted into the proper use of your wallet would be a wise investment of your time.
Using Your Wallet to Receive LTC
Once your Litecoin wallet is running, it will generate a list of receiving addresses. These are long, random strings of characters which begin with an "M." Here's an example of a Litecoin address: MTvnA4CN73ry7c65wEuTSaKzb2pNKHB4n1.
Old Litecoin addresses began with a "3" but this format is discouraged as it leads to confusion with Bitcoin "3" addresses.
You should select any address from your personal Litecoin wallet to receive any LTC you purchase from Coinmama.
How to Buy Litecoin
Now that you have a wallet and address, you're ready to purchase Litecoin. Coinmama lets people in most countries around the world buy Litecoin (LTC) with credit or debit cards issued by either VISA or MasterCard. This is probably the easiest and quickest way to buy LTC.
Additionally, EU and UK residents may use our new SEPA transfer method to buy Litecoin. The bank account you send Euros from must be registered in your name. Bank transfers have lower fees and higher limits than card purchases but take somewhat longer.
Here's how to buy LTC from Coinmama, in 4 easy steps:
Step 1 – Create Your Coinmama Account: 
Head to the Coinmama website and select the blue "Sign Up" tab.

You'll need to enter your email, password, first name, last name and your country of residence.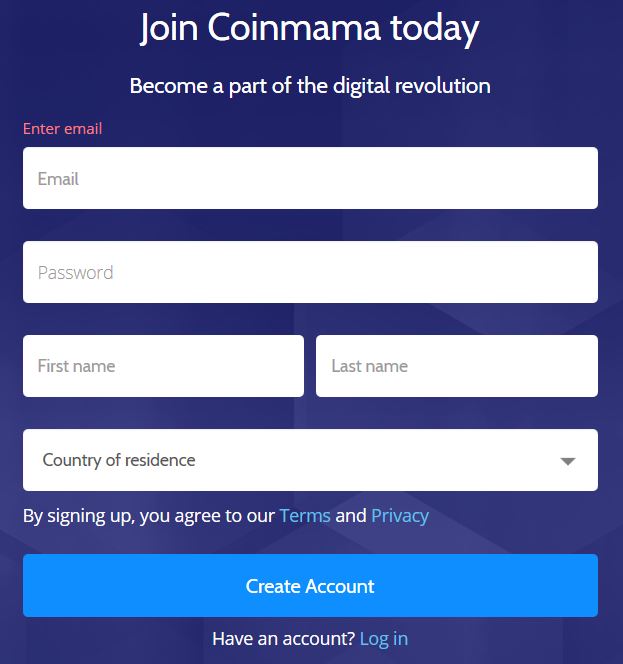 If you already have an account, just sign in via the "Log In" button with your existing login details.
For more information on how to create an account with us, click here.
Step 2 – Verify Your Account:
To purchase Litecoin (LTC), you first need to become verified.
It's necessary to upload your ID or passport, plus various other documents depending on which level of verification you wish to reach.
For further help with account verification, please click here.
Step 3 – Purchase Your Litecoin:
Once signed in and verified, navigate to the "More Coins" dropdown menu on the top menu bar then select Litecoin from the list.

Next, you'll be presented with several choices: either purchase a set amount of LTC, or enter in a custom amount of up to roughly $5,000 (as of the time of writing) for card purchases or $12,000 for SEPA purchases. You can also choose to price LTC against either USD or EUR.
Supply your Litecoin wallet address (as discussed above under the heading "Using Your Wallet to Receive LTC"). This address is where we'll send the coins which you buy. You can re-use this address for subsequent purchases or get a new one from your wallet.
Next, select the "Proceed to checkout" button.
Step 4 – the Checkout Page
Complete the form with your relevant details. Make sure that your card or banking details, such as your name, correspond with the details you supplied when creating your Coinmama account.
Finally, proceed to payment by clicking on the "Pay now" button. For card purchases, kindly note that only cards issued by VISA or MasterCard are accepted.
Once your card payment has been made, the order status will read "In Process." This means that your order is being processed by the bank or card company. Credit card orders will be processed within minutes but SEPA transfers may up to two business days.
If paying via SEPA, note that you will get the LTC/EUR rate at the time your money arrives at our account. This means that during times of high price volatility, you may get a rather different Litecoin amount (either more or less) than expected.
Once payment has been made, our LTC transaction to your wallet's address then needs to be confirmed by the Litecoin network. In approximately 2.5 minutes, a Litecoin payment will be broadcast from Coinmama's wallet to the Litecoin address you supplied in Step 3 point 3.
It's unlikely that the Litecoin network will experience sufficient congestion to delay your transaction but that's always a possibility. Ordinarily, your transaction will be confirmed within 2.5 minutes.
For large amounts, it's safest to wait for up to 40 more confirmations. You may then regard the transaction as final and spend your new coins.