As a large, advanced, and prosperous nation with a well-educated population, Australia is Oceania's natural cryptocurrency leader. While Australia has a strong Bitcoin industry and community, these might be even better developed if the government hadn't passed some rather draconian taxation laws in the past.
Thankfully, the Australian government has since relaxed these strictures. Bitcoin is thriving in the country as a result, ranking 14th in the world for Bitcoin trading volume in mid-2018. Australia may soon be recognised as a world leader in the crypto space, in line with the government's intention to make Australia a fintech hub. Bitcoin is legal within Australia and will likely be officially recognised as being similar to a foreign or even national currency.
If you live in Australia, this guide will get you up to speed on Bitcoin's status in your country, briefly covering Bitcoin's history there and describing the current state of play. If you're looking to get started with buying some BTC, this guide will also explain how to do so, using either a credit or debit card issued by VISA or MasterCard.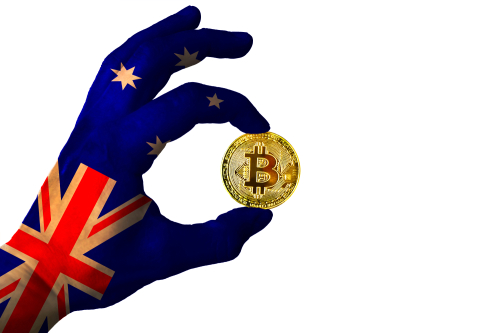 Double Taxation Woes
In mid-September of 2017, the Australian government amended its unfortunate legislation which applied GST to Bitcoin on both purchase and payment. Previously, clients of Coinmama and all other crypto brokers or exchanges were forced to pay GST on any Bitcoin they purchased. Thereafter, clients were expected to pay GST a second time if they spent their purchased BTC on goods or services. This demonstrated the Australian government's willingness to engage constructively with the fintech industry, with the goal of promoting innovation and creating employment.
Australian Tax Regulations
Although double taxation has ended, the Australian Taxation Office is by no means turning a blind eye to cryptocurrency. The ATO has issued clear and extensive guidelines on how crypto will be treated for tax purposes; essentially you become liable for capital gains tax when you sell or transact.
Clearly, the ATO researched crypto in depth before creating these rules, as even technically-complex eventualities, such as chainsplits, are addressed. We at Coinmama would advise our clients to familiarize themselves with these guidelines, as the ATO has warned that they intend to crack down on crypto tax dodgers. The good news is that crypto losses are considered deductible.
The Outlook for Bitcoin in Australia
Despite the ATO's somewhat heavy-handed approach, there's cause for optimism in the Australian cryptocurrency environment. A slew of complaints from over 1,200 people regarding crypto scams led to Australia's financial intelligence agency to formulate regulation to govern crypto exchanges. Australia regulators have also committed to taking action against deceptive ICOs (Initial Coin Offerings). Such official measures will hopefully reduce the incidence of fraud, but it's also important that cryptocurrency users educate themselves and take responsibility for their own crypto finances to better avoid such pitfalls. Provided you use a properly regulated exchange like Coinmama, you'll be able to buy your bitcoins safely.
The Australian government is also experimenting with various blockchain applications, from tourism to tracking and trading agricultural commodities. In July of 2018, the government also signed a major $740 million deal with IBM to implement blockchain technology to improve data security across multiple agencies. This project should prevent any repeat of the problems experienced during Australia's last national census.
As for issuing its own cryptocurrency, an option which several nations are exploring, the Reserve Bank of Australia has denied consideration of any such plans. Indeed, a senior official at the RBA stated that he sees little prospect of widespread cryptocurrency adoption within the nation. This is in keeping with the history of statements from central banks around the world, who were all naturally incentivized to downplay the monetary potential of Bitcoin ever since it began to gain significant value.
How to Buy Bitcoin in Australia
Coinmama allows Australians to buy bitcoin with a debit or credit card issued by either VISA or MasterCard. If you're looking to buy bitcoin with your credit or debit card, then Coinmama facilitates this in a few simple steps:
Step 1 – Create Your Coinmama Account:
Head to the Coinmama website and select the blue "Sign Up" tab.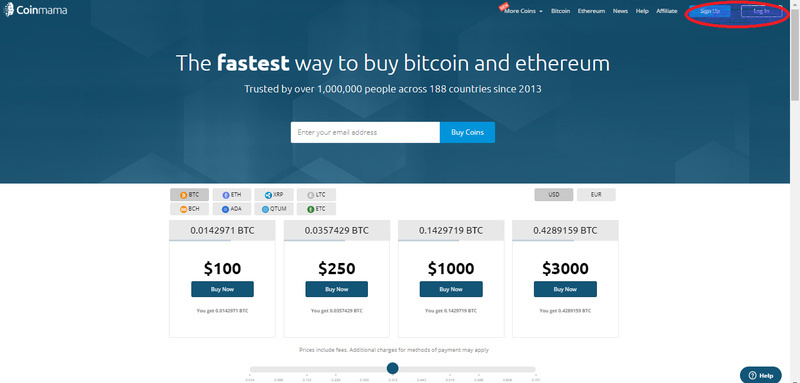 You will need to enter your email, password, first name, last name and your country of residence. Australia is of course listed as a valid country.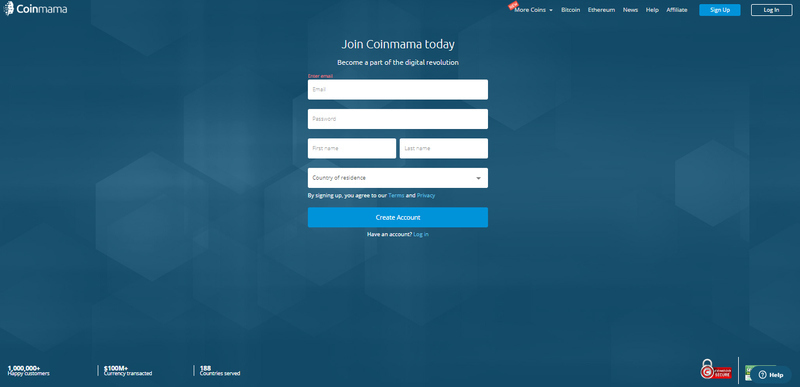 If you already have an account, just sign in with your login details.
For more information on how to create an account with us, click here.
Step 2 – Verify Your Account:
To purchase bitcoin (BTC), you first need to become verified.
It is necessary to upload your ID or passport, plus various other documents depending on which level of verification you wish to reach.
For further help with account verification, please click here.
Step 3 – Purchase Your Bitcoin:
Once signed in and verified, navigate to the "Bitcoin" tab in the top menu bar.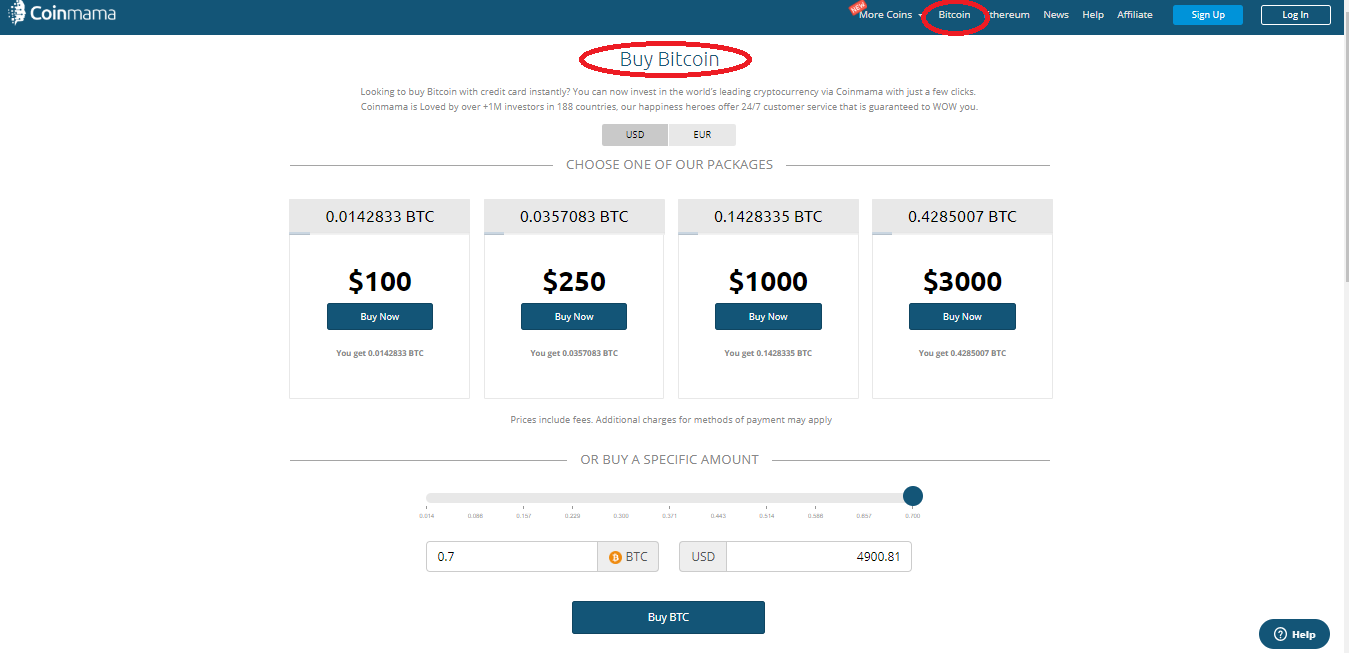 Once there, you will be presented with several choices: either purchase a set amount of BTC ,or enter in a custom amount of up to roughly $5,000 (as of the time of writing).
Supply your Bitcoin wallet address; this is where we'll send the bitcoins which you purchase.
Next, select the "Proceed to checkout" button.
Step 4 – the Checkout Page:
Complete the form with your relevant details. Make sure that your card details, such as your address, correspond with the details you supplied when creating your Coinmama account.
Finally, proceed to payment by clicking on the "Pay now" button. Note that only VISA or MasterCard are accepted.
Once your payment has been made, the order status will read "In Process." This means that your order is being processed by the card company. After a few moments, the order will be processed and the payment will be approved.
Your wallet then needs to be confirmed. In approximately 10 minutes, you will receive payment to bitcoin at the address you supplied. After a further 10 minutes or so, this transaction should appear as confirmed within your wallet. Note that during times of especially high traffic, your transaction may take slightly longer to confirm.
Conclusion
Bitcoin and blockchain technology has a bright future in Australia, as in most other countries. It's perfectly legal to purchase in Australia and there are many opportunities to use it within the country. For example, you can pay all sorts of Australian bills via the Living Room of Satoshiwebsite. However, it's also important to be mindful in your Bitcoin dealings, lest you run afoul of the taxman.