This Week in Crypto: Will Bitcoin Summer Last?
September is upon us, which means we officially have to bid goodbye to crypto summer. Will the fall bring changes to the Bitcoin price? We take a look at the week's Bitcoin news, including the markets, crime, and crypto adoption.
A split week for the Bitcoin price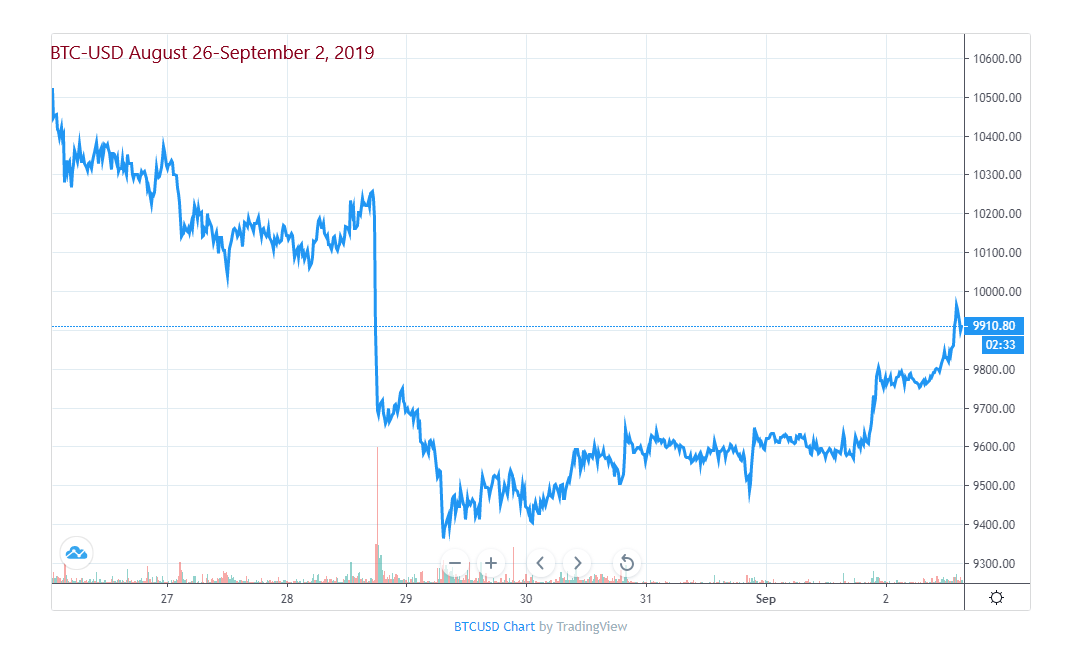 In contrast to weeks that saw either great volatility or overall steadiness, looking back at the past week, you could say that the Bitcoin price was divided into two steady but very separate entities. The first half of the week showed prices hovering around 10,200 USD without too much variety. Then a sharp drop occurred late on August 28th, with the BTC price falling 450 USD in the span of an hour, and continuing downward another 300 USD over the next day before bottoming out at around 9,400 USD. From there, the second half of the week showed slowly rising, but ultimately steady prices in the mid-upper 9000s, settling above 9,700 by week's end. There's no denying that the spring and summer brought a huge amount of optimism to those of us who buy Bitcoin, so it will be interesting to see if the fall continues the lively streak for crypto, or if we'll soon head back to the dregs of winter.
Crypto Crime & Punishment
A few weeks ago, we took a look at the strange case of Craig Wright. Wright claims to be Satoshi Nakamoto, the pseudonymous (and anonymous) inventor of Bitcoin, which has become a bit of a lose-lose situation for him. On the one hand, most people dismiss his claim, and he's become something of a laughing stock in the crypto community. On the other hand, he's been embroiled in a court case brought against him by the estate of his former business partner, wanting a share of the Bitcoins he may or may not have. This week that case got one step closer to being resolved, as a judge ruled that Wright needs to hand over 50% of his Bitcoin holdings. That's a big chunk of money if Wright really is Satoshi Nakamoto, as Satoshi is believed to be sitting 1 million Bitcoin. Perhaps the biggest problem? While Wright continues to claim he's Satoshi, he also says he can't access his coins. Is it really possible Satoshi Nakamoto lost his private keys? Your guess is as good as ours.
We've all heard of exchange hacks where millions of dollars worth of crypto are stolen, but what about hacking for mining power? That's what Paige Thomspon is being accused of. The former Amazon employee allegedly not only stole customer data in breaches she performed, but she also stole computing power, allowing her to mine Bitcoin without having to pay the astronomical electricity charges that come with it. While Bitcoin mining is indeed expensive in many places, we have to admit, that sounds like a lot of effort. Personally, we'd rather just buy Bitcoin.
Bitcoin adoption
Online shopping mecca overstock.com was one of the earliest drivers of Bitcoin adoption, and has long been one of the most stable acceptors of cryptocurrency and a driver of blockchain use. This attitude was largely due to Overstock founder and CEO Patrick Byrne, who was—and is—a huge proponent of crypto. But with Byrne departing Overstock, the future of the company in the blockchain arena was suddenly called into question. Luckily, the newly named CEO, Jonathan Johnson, has assured the company's many Bitcoin fans that he is just as keen on crypto, and that blockchain operations will remain. Phew.
We'll take a look at a news recap of the full month of August in Bitcoin shortly, and as we head into fall, we remain hopeful that the Bitcoin price will stay high.