May 2019 News: Everyone Wants to Buy Cryptocurrency
May continued the bullish trend that began in April, as people rushed to buy cryptocurrency. Bitcoin itself led the madness, rising in price by as much as 70% in May, and even briefly skimming the $9000 mark for a few minutes on May 30th. And its value as a share of the total crypto market cap reached a peak of 60% in the middle of the month, the highest level of Bitcoin dominance since December 2017. But it's not just Bitcoin; from the start to the end of the month, the approximate total value of the crypto space rose from $166 billion to a peak of $280 billion, a whopping 69% increase, signaling that everyone is looking to buy crypto. And trading volume increased across the board during May, indicating widespread participation in the price action.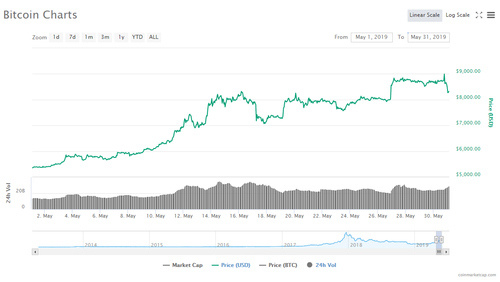 Bitcoin in US Dollars, chart courtesy of CoinMarketCap.
If you forgot to buy crypto in May, you can still do so in June, of course: verified Coinmama users can buy cryptocurrency with credit card instantly, and it's easy to buy crypto with bank transfer as well.
Our minds can't help but stick with the prices, but May wasn't just about that. A lot of positive adoption and development news was reported in May, particularly for Bitcoin.
Here are last month's standout events:
Crypto Adoption
May started out with a temporary setback to Chinese crypto adoption. WeChat, the popular instant messaging, social media, and mobile payments service, restricted all cryptocurrency fundraising and trading across its platform. In May of 2016, WeChat had 700 million active users, with 90% of them Chinese residents.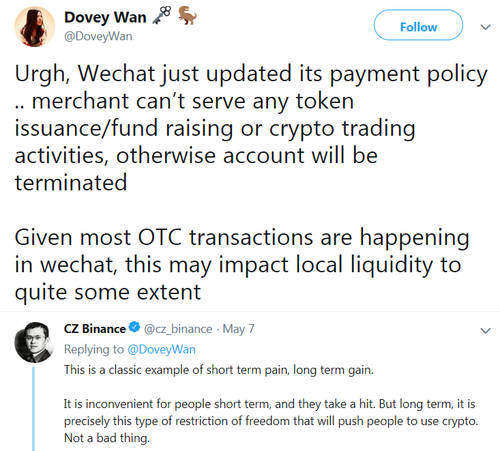 The Chinese Bitcoiner, Dovey Wan, who tweeted the news, opined that local liquidity would be impacted as WeChat was home to "most" peer-to-peer crypto trading. Binance's CEO, Changpeng "CZ" Zhao, responded that people would find alternative solutions to buy crypto, which would ultimately improve the resilience of the Chinese crypto community.
China's latest crypto restrictions were offset on May 13th, when it was announced that crypto could now be used as a payment method in the United States at Starbucks, Nordstrom, Whole Foods, GameStop, Barnes & Noble, and many other major retailers. Bitcoin, Ethereum, Bitcoin Cash, and Gemini's dollar-pegged stablecoin are currently supported. While these companies aren't directly accepting crypto, they've integrated the "Spedn" payment service; a collaboration between Flexa and the Winkelvoss twins' Gemini exchange.
Some further positive adoption news broke on the 20th, with the announcement that Bitcoin and Litecoin transactions are now possible over WhatsApp through the Lite.im bot, run by The Zulu Republic. The platform will facilitate peer-to-peer trades (WhatsApp has over a billion and a half users and is owned by Facebook), so users who still don't hold Bitcoin will still need to buy crypto with credit card first through a crypto vendor before being able to trade. And speaking of Zuckerberg's social media platform, FB ended its ban on cryptocurrency (although not ICO) advertising in May, so its 2.375 billion users will again see Bitcoin and altcoin ads.
Continuing the trend of US adoption, Coinstar reported the expansion of its Bitcoin trial around the 22nd of May. Coinstar, which is best known as a network of kiosks across thousands of grocery and big box stores across America that allowed people to exchange loose change for dollar bills, recently expanded into cryptocurrency. Similar to Bitcoin ATMs,users can buy Bitcoin for cash. This service now operates via 2,200 machines in high traffic retail spaces across 21 US states.
Yet more US Bitcoin adoption was announced on the 23rd by telecoms giant AT&T. Their clients can now settle their mobile bills using BTC, either on AT&T's website or their app, via the BitPay service. It's anyone's guess which major corporation will be next to accept Bitcoin.
And outside of the US, Abra, the mobile Bitcoin wallet, announced on the 29th that their app now allows users in 150 non-US countries to purchase securities using Bitcoin. Small investments can be made via Abra in major stocks, ETFs, 50 fiat currencies, 30 cryptocurrencies, and various commodities, including gold and oil.
Code Development
Two new major upgrades to Bitcoin were put forward in May. On the 6th, prolific Bitcoin Core developer, Pieter Wuille, published two long-awaited Bitcoin Improvement Proposals (BIPs) for Schnorr Signatures and Taproot respectively. If they gain consensus and are merged into Bitcoin, these two closely-related proposals will improve Bitcoin's scaling and privacy.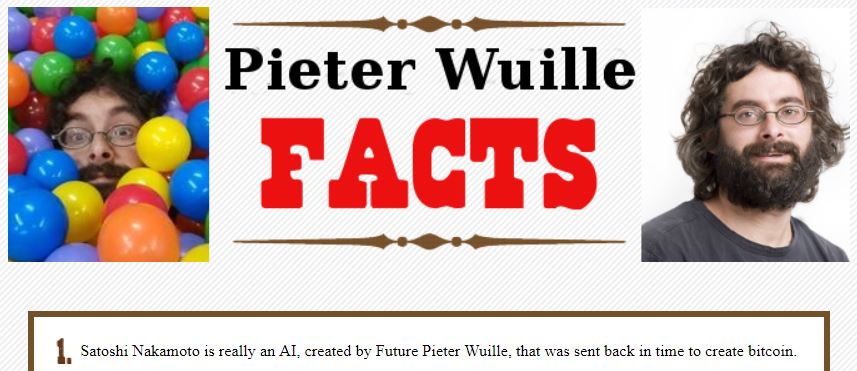 Visit PieterWuilleFacts for more "facts."
Wuille struck again on the 31st, along with fellow developers, Gregory Maxwell, Gleb Naumenko, Alexandra Fedorova and Ivan Beschastnikh.  The group put forward a Bitcoin upgrade, known as Erlay, for discussion. By restricting the number of full nodes notified of new transactions, Erlay would have the effect of reducing up to a full node's bandwidth usage by up to 75%. Erlay has yet to be released in code form.
Crime and Punishment
Another crypto exchange hack was reported on the 8th, when the world's largest exchange by volume, Binance, was hacked for 7,000 bitcoins. At the current price of $7,800, that amounts to about $55 million. This sum then constituted roughly 2% of holdings Binance's hot wallet. The exchange reports that various hacking techniques, such as malware and phishing, were employed in the attacks. Users were informed that the exchange's insurance fund, SAFU, would cover all losses, leaving clients unaffected financially.
New Zealand-based, crypto-only exchange, Cryptopia, which was hacked at the beginning of the year, announced on the 14th that they were entering liquidation. It was later reported on Cryptopia's site that the failed exchange still owes at least $2.7 million to its creditors. The amount still owed to former users has not yet been determined.
On the 23rd, the Bestmixer.io coin tumbling site was taken offline by Europol and Dutch financial crime investigators. This is the first time a coin-mixing service has been seized, according to Europol, who allege that the tumbler was being used to launder funds acquired criminally. Bestmixer.io was one of the biggest mixers, handling $200 million annually in Bitcoin, Litecoin, and Bitcoin Cash volume.
In March, the United Nations Security Council released a bombshell report on North Korea's alleged misdeeds, including extensive hacking conducted against foreign banks, central banks, and crypto exchanges. On the 31st of May, it was reported that North Korea allegedly used phishing attacks against South Korean users of the UpBit crypto exchange. Emails promising a major payout from UpBit were sent to users to trick them into running attached malware.
What's in store for June?
As we close out the first week of June, prices have dipped a bit from the end of May, yet are still well above where last month started. We can only hope the upward trend continues. For users looking to get in on the excitement, at Coinmama you can buy cryptocurrency with credit card instantly, or buy crypto with bank transfer for higher daily spending limits and lower fees.