July Bitcoin News: The time to buy Cryptocurrency?
After a punishing July, many crypto traders are now wondering whether it's time to buy cryptocurrency. Looking at the chart since April, when the 2019 crypto rally began, it's clear that price hit some serious headwinds in July.
Let's consider the total crypto market cap. Following June's high of $390 billion, July's high was only $355 billion, reached on the 10th of the month. This was followed by a low of $236 billion on the 17th of July. The total value currently stands around the $264 billion mark.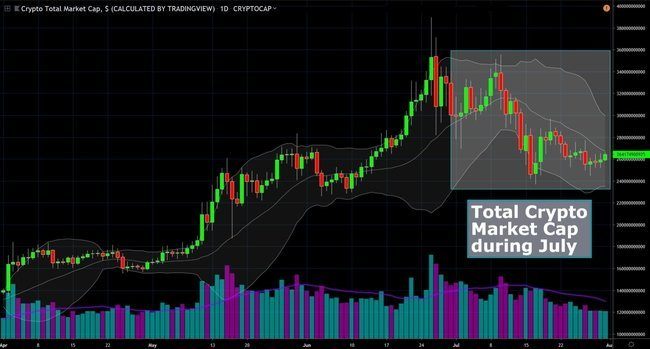 Total crypto market cap value as per by TradingView. This value may differ slightly from other estimates.
Bitcoin's share of this total value is currently at 67.25%, and BTC dominance reached a high of 69.8% on the 16th of July, which is its highest level since December of 2017.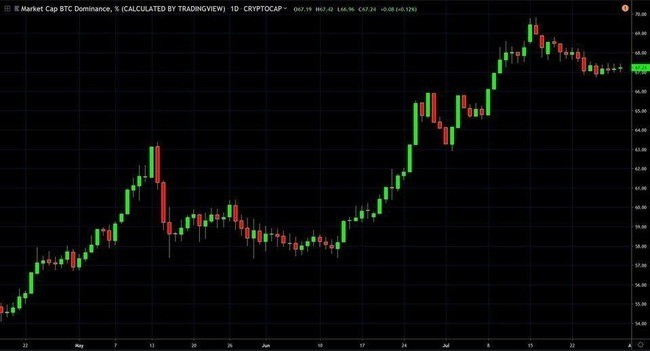 Bitcoin's share of the total crypto market cap, courtesy of TradingView.
Let's consider the Bitcoin price since, based on its dominance, Satoshi's creation is still clearly acting as the crypto market's bellwether.
A double top pattern was apparent, with the first peak drawn on the 26th of June and the second peak on the 10th of July. This formation most closely resembles the Eve & Eve Double Top described by pattern expert, Thomas Bulkowsi. While this pattern doesn't necessarily indicate a reversal of the greater bullish trend, it's clear that upwards momentum has stalled.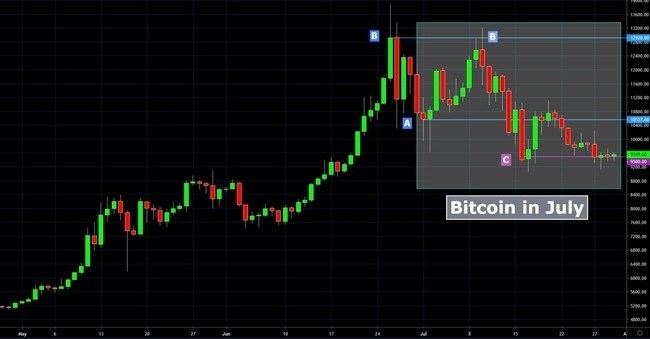 Daily BTC price courtesy of TradingView: B denotes double top "peaks," A the "valley," C the target.
From July's high of $13,180, price retreated $4,130 to the month's low at $9,050. These movements suggest support is to be found around the $9,000 level. Resistance has been established around the $13,000 level of the pattern's peaks.
The price target predicted by the pattern (around $9,500, depending on the exchange price used) was then met on the 16th of July. The BTC price currently languishes around this same level, pending future developments.
To summarize, the Bitcoin price retraced in early-to-mid July before entering a consolidation phase which still persists. Whether now is a good time to buy cryptocurrency is something only you can answer, though a resumption of the upward movement is certainly possible, as news flow throughout July was mostly positive or neutral.
Perhaps the most notable trend in July was growing crypto awareness. Major political and financial figures, including Donald Trump and the US Fed Chairman, focused their attention on cryptocurrency. Here's a brief recap of the most important events which occurred in July:
Crypto Development
SegWit (Segregated Witness) usage in Bitcoin continues to climb. SegWit hit an all-time high at 48.83% of all transactions on the 22nd of July.  Last month also saw the highest sustained levels of SegWit usage since the upgrade was adopted. This is encouraging; it shows that the network's capacity to handle more users or higher activity is increasing.
An unexpected integration to Bitcoin's Liquid sidechain was announced by Blockstream on the 29th of June. Tether (USDT), the leading US Dollar-linked stablecoin, can now be transmitted over Liquid, in the form of Liquid USDT. Bitcoin has now integrated some of the value and utility of another top 10 altcoin and, by extension, the fiat US Dollar as well! This development will certainly bear watching in the months ahead.
Crypto Mining
Hash rates hit their all-time high in July. 79.75 exahash was reported on the 20th of July, suggesting that miners are still bullish on the BTC price and investing in mining hardware accordingly.
Crypto Business Adoption
We've written about how a major necessity for the positive value of Bitcoin is widespread adoption, and July was a good month for that. Gab, known for its free speech Twitter-alternative platform, is crowdfunding a new web browser which allows un-moderated commentary on any web page. Their new browser is a fork of the Brave browser but will implement Lightning Network Bitcoin rewards for viewing ads, rather than Brave's Basic Attention Token (BAT).
Speaking of Lightning, Fold announced support for it on the 10th of July. The updated Fold wallet allows people in multiple countries to make Lightning BTC purchases from Amazon, Starbucks, Uber, Home Depot, and many more major companies.
One of Europe's major airlines, Norwegian Air, announced in late July that it will now accept Bitcoin in exchange for tickets. Furthermore, the company plans to open its own crypto exchange and implement a system for passenger and exchange-user rewards.
Online tech and electronics retailer, Newgg, was one of the earliest major retailers to accept Bitcoin within the US. Newegg is now widening its Bitcoin acceptance to include 73 additional countries.
Crypto Awareness
On the 11th of July, history was made when the sitting President of the US mentioned Bitcoin. Donald Trump tweeted his unfavorable opinion of Bitcoin and support for the US Dollar. Trump denied Bitcoin's monetary legitimacy and complained that unregulated cryptocurrency can be used for nefarious purposes. Trump also stated that Facebook's forthcoming Libra virtual currency will require regulatory approval. The Bitcoin price did not react to Trump's comments.
Testifying before the US Senate, Jerome Powell, the Chairman of the Federal Reserve, mentioned Bitcoin by name on the same day as Trump's remarks. Powell said that Bitcoin is a "store of value" and an alternative to gold. Powell also stated his belief that "almost no one uses Bitcoin for payments," implying that it will be unable to replace the Dollar for everyday transactions.
Another mention of Bitcoin from an unexpected yet high-profile source occurred on the 26th, when one of China's major banks published a Bitcoin infographic on its official site. Bank of China's infographic is surprisingly positive, covering the basics of how Bitcoin works and why it's valuable.
Crime & Punishment
BitPoint, a Japanese exchange, was hacked for about $32 million worth of XRP and BTC on the 12th of July. The exchange temporarily suspended operations following the theft. The exchange's parent company lost almost 20% from its share price in light of the attack.
Crypto Regulation
It was reported on the 14th of July that major US bank, Wells Fargo, has changed its policies regarding cryptocurrency. The bank will no longer allow any crypto-related business, so clients will no longer be able to use Wells Fargo accounts to buy cryptocurrency or sell it.
In late July, several US Bitcoiners reported their receipt of a "nastygram," or warning letter, from the country's tax agency, the IRS. On the 26th of July, the IRS published regarding the letter, which urges Americans to pay any and all crypto-related taxes. It's assumed that at least one major US-based cryptocurrency exchange reported their users' activity to the IRS. Decentralized exchange trading is reportedly increasing in the light of increased scrutiny by tax agencies.
On the 30th of July, the outcome of a U.S. Senate hearing on cryptocurrency was interpreted as having concluded that any possible ban of Bitcoin is unlikely.  The Senate Banking Committee Chairman stated that he was "…pretty confident we couldn't succeed [in banning cryptocurrency]."
Crypto Geopolitics
Iran and Venezuela are both turning to cryptocurrency to deal with economic sanctions imposed by the US.
It was reported on the 22nd that Iran has legalized cryptocurrency mining within the country. The country's government remains resistant to the idea of allowing Bitcoin to be used in place of the Iranian Rial, however, and crypto trading remains restricted. Yet Iran's central bank is also planning to introduce its own state cryptocurrency, backed by the nation's gold reserves. It's intended as a solution to local banks accounts shut out from the international system. It was further stated that all mining will be performed by the central bank and a cartel of Iranian IT companies.
Meanwhile, it was reported on the 25th that the state of Venezuela has been using Bitcoin to convert airport taxes into US Dollars. With the Bolivar in full hyper-inflationary collapse, the country desperately requires stable currency but sanctions limit its access to foreign banking services.