How to Buy Bitcoin Online with Coinmama in 2019
This weekend sent people on another mad dash to a data-saved, as an overall crypto boost put the Bitcoin price at above 10,000 USD for the first time in over a year. For many, the spike recalled the fourth quarter of 2017, when the price of Bitcoin soared, first above 5,000 USD, then above 10,000 USD, before it finally briefly hit 20,000 USD and then calmed back down again. That spike wasn't limited to just Bitcoin; in late 2017, all of the major coins saw a jump as people scrambled to buy cryptocurrency. Now, as anyone who bought Bitcoin since the beginning of May 2018 is seeing a profit, and mainstream news sites carrying Bitcoin stories again, it's safe to say that the buzz is back. For anyone hoping for a repeat of 2017, the question is, "How do I buy Bitcoin?" as well as "How do I buy cryptocurrency?"
With Coinmama, users in 190 countries and territories worldwide and in 40 US states can buy Bitcoin online in just a few easy steps. You can find the full list of areas we serve here. Simply register with Coinmama, verify your account, and buy. In this article, we'll walk you through the process of buying Bitcoin with Coinmama step-by-step, from registration to receiving your coins. Coinmama doesn't just sell Bitcoin. You can buy cryptocurrency such as Ethereum, Litecoin, Ripple (XRP), Cardano, Bitcoin Cash, Qtum, and Ethereum Classic as well. Learn how to get verified with Coinmama, set up a cryptocurrency wallet, and buy Bitcoin with a credit card or bank transfer.
Setting up your Coinmama account
Before you can buy Bitcoin online with Coinmama, you need to set up your account. You'll need to first register your email address and then get verified for purchase. Coinmama verifies all of its users for compliance with regulations and in accordance with its risk management policy.
For a fast and smooth verification process, gather your government-issued identification card such as a driver's license or passport, your smartphone, and a pen and paper. US customers: because we do not serve all US states, you'll need to upload an ID that shows your address, such as a driver's license or non-driver's ID card.
Register
Go to www.coinmama.com, and click "sign up"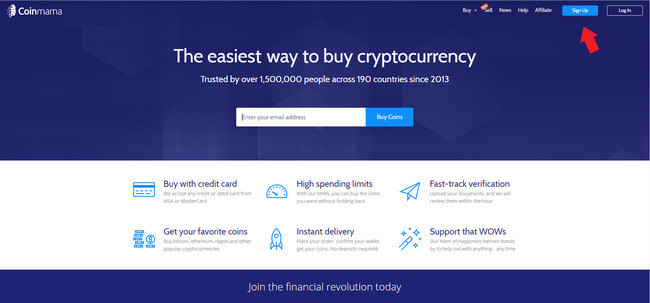 2. Enter your first and last name, your email address, password of your choice, and country of residence. Then click "create an account."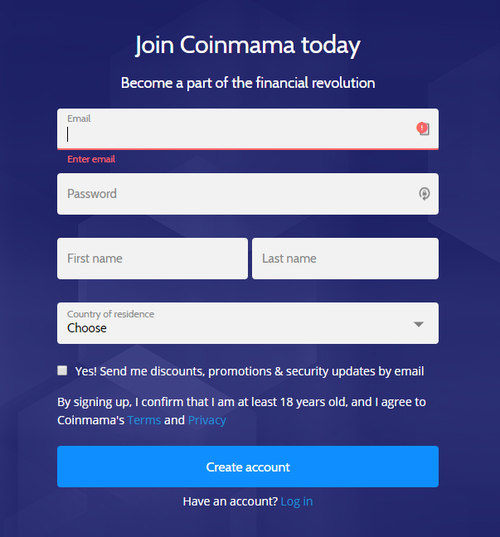 3. Look for an email from Coinmama asking you to confirm your account. Click the link in the email to complete the registration process
Get Verified for Purchase
Enter your personal information, including your full name and address, then click "Next."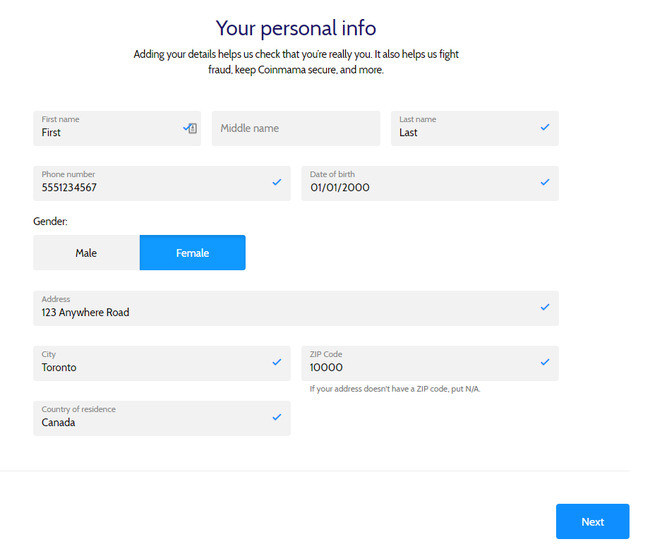 2.   Upload a photo of your government-issued identification card. Using your smartphone or a scanner, scan and upload both the front and back of your ID card. Make sure all four sides and corners of the ID are visible and that the image is clear.
3.  On a piece of paper, write "Coinmama" and today's date. Then, using your smartphone, take a photograph of yourself holding the paper as well as the ID you've just uploaded. Your face, the ID, and the paper all need to be fully visible. We recommend using natural lighting, and a smile never hurts. Upload your selfie, then click "Send for Approval."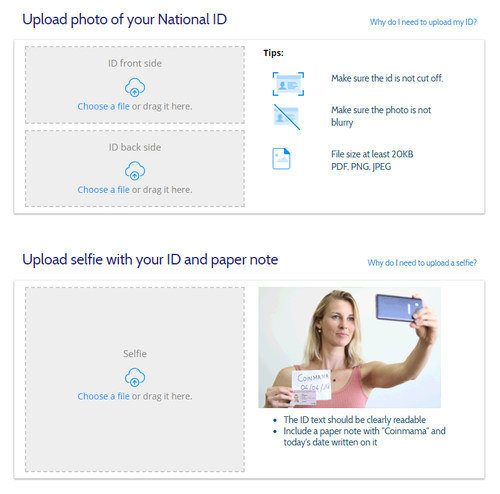 Our verification team will now review the information you submitted. Our verification team works 6:00-23:00 UTC. If everything looks ok, you should be verified in about fifteen minutes during working hours, or as soon as we're back at our desks. If we have a question about your documents or need more information, we'll let you know. Once your account is verified, you're ready to buy Bitcoin!
Buy Bitcoin online: Placing your first order
As soon as your account set up and verification is complete, you can buy cryptocurrency with Coinmama. You'll need a Bitcoin wallet or a wallet that supports your favorite cryptocurrency. There are many different wallets to choose from, and you can use whichever crypto wallet best suits your needs, however, we recommend reading our tips for keeping your Bitcoin investment safe first. Once you have a Bitcoin wallet set up, you simply need to decide which cryptocurrency you want to buy, and how much.
Choose your cryptocurrency
Log into your Coinmama account, then click "buy." You'll now be on our main "buy cryptocurrency" page.

From the dropdown menu, choose which cryptocurrency you'd like to purchase, and the currency you'd like it displayed in. Coinmama accepts all cryptocurrencies, but note that if your bank account is in a country that uses a currency other than USD, EUR, GBP, AUD, or CAD, you may be charged a foreign transaction fee by your bank.

Choose an amount. You can select a package, or enter the fiat amount or crypto quantity you'd like to buy. Then click "Buy now."
Add your Bitcoin wallet and payment details
Enter your cryptocurrency wallet address. Remember, different wallets support different cryptocurrencies, so if you buy Bitcoin, you'll need a Bitcoin wallet. If you buy Ethereum, you'll need an Ethereum wallet, and so on. If you're not sure what your cryptocurrency wallet address is, try clicking on "receive funds" or something similar from your wallet provider's application or website. Each cryptocurrency wallet provider is different, so it's best to contact them with any questions.
Choose your payment method
Users worldwide can choose to buy bitcoin with a credit card, debit card, or bank transfer. Select your preferred payment method, then click the buy button.

Enter your payment details. Enter your credit card details if paying by credit or debit card. To pay by bank transfer, log onto your own online banking system and transfer the exact amount shown to the Coinmama bank details provided. Note that SEPA bank transfers usually take 1-2 business days to post while SWIFT bank transfers can take up to 3 business days. Coinmama will be unable to lock the cryptocurrency rate on bank transfer orders until payment is received. For more information on placing an order by bank transfer, click here.
Confirm your cryptocurrency wallet address
Check your email for a link to confirm your wallet address. If you buy Bitcoin with a credit card or debit card, you will receive your Bitcoin wallet confirmation link once your payment has been received. If you pay with a bank transfer, the link will be in the order summary email. Because wallets are hosted through third-party applications and providers, Coinmama will not be able to retrieve any funds sent to the wrong address. Always triple check that you've entered your wallet address correctly and that the wallet you've selected supports the coin you're buying. If everything looks ok, click the link to confirm.
Wait for your coins
If you buy with credit or debit card, you should receive your coins about 10-20 minutes after your payment is processed. You'll be able to see them on the blockchain as soon as they're processed and sent, and they should appear in your wallet about ten minutes after that, barring any blockchain confirmation delays.

If you pay with a bank transfer, we'll lock the rate and send your coins as soon as your payment is received, usually in 1-3 business days.
Congratulations! If you've made it to here, you should now be the proud owner of cryptocurrency. Hold it tightly until you're ready to sell bitcoin, and then come back to us!