Coinmama's News Roundup: Digital Currency Markets and Innovation On the Move
During our last news roundup, we mentioned that Bitcoin's (BTC) price was hovering around the $6,600 range and since then the digital currency and many other assets have seen some nice gains. At the moment BTC's value is around $7,050 at the time of publication gaining around 10 percent over the last seven days. Meanwhile Ripple (XRP), Ethereum Classic (ETC), Bitcoin Cash (BCH), Ethereum (ETH) Qtum (QTUM), Litecoin (LTC), and Cardano (ADA) have seen bigger gains between 12-18 percent during the last week. Many traders and enthusiasts are hoping a trend reversal from bearish-to-bullish takes place this fall.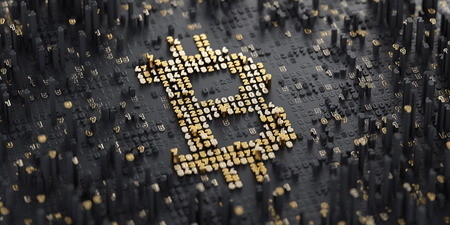 Markets and Cryptocurrency Volumes Kick Into High Gear
Bitcoin Markets Kick Back Into Gear
The price of Bitcoin (BTC) has surpassed the $7,000 range after a bunch of market consolidation over the past week. Many other digital assets also saw some upward gains and many of them much larger than BTC. After the decentralized currency's graceful recovery northbound the well-known executive from Fundstrat Tom Lee remains firm about his prediction that BTC is still on target to cross $20K by the year's end. "It only takes ten days for Bitcoin to see all its returns in a year — So I still believe that ($20,000 by the end of 2018) is possible," Lee explained on CNBC this week. Furthermore, Bitcoin proponents eagerly await the Securities Exchange Commission's (SEC) decision regarding the Cboe/Vaneck exchange traded fund (ETF) hopefully by September.
Moscow Plans to Use Ethereum for Commerce Transparency
According to reports the government of Moscow plans to use the Ethereum (ETH) blockchain in order to bolster commerce transparency. A system will be used for trading spots used within farmers markets and the protocol will record plot applications the farmers submit. Reports detail that farmers will stem from Kyrgyzstan, Kazakhstan, Russia, Armenia, and Belarus. "The entire dataset is publicly viewable, transparent and available for download. In that case, submission time can be confirmed, while the application cannot be deleted or altered by someone once it is submitted."
Australia May Have a National Blockchain Soon
In addition to the Moscow government, many other governments are very interested in blockchain technology. Australia's Commonwealth Scientific and Industrial Research Organisation (CSIRO) revealed the government entity is partnering with IBM and Herbert Smith Freehills in order to create an Australian distributed ledger platform. Paul Hutchison, vice president and partner, Cognitive Process Transformation, at IBM Global stated during the announcement, "Blockchain will be to transactions what the internet was to communication – what starts as a tool for sharing information becomes transformational once the adoption is widespread. The ANB could be that inflection point for commercial blockchain, spurring innovation and economic development throughout Australia."
University of Malta Announces Blockchain Scholarship
The Times of Malta reported this week that the University of Malta is working on a €300,000 distributed ledger technology scholarship fund. Malta has been big into blockchain lately as the government announced it wants to attract blockchain companies and bring more finances to the region. "These companies need technical resources both to build and to operate by use of this technology, as well as experts in financial services, law, and managerial roles," explained the digital economy parliamentary secretary, Silvio Schembri. Bitcoin and other digital currency adoption have been growing increasingly popular in Malta and the government seems receptive towards the technological innovation.
Litecoin's Charlie Lee Believes In the Long-Term Price After Scaling
This past December Bitcoin hit $20,000 per BTC and the cryptocurrency Litecoin (LTC) hit historical price highs as well. This week during a CNBC interview on August 27 Litecoin (LTC) creator Charlie Lee explains that bearish markets are not so bad. "[Price] tells us the success of cryptocurrencies, but short-term it doesn't really tell us much. For example this year, there's been so much adoption in Bitcoin and Litecoin, but their price has dropped 60-70 percent. It's because it's so volatile, it's all about speculation these days, but in the future, the price will reflect the success of the currencies." Charlie Leed adds, "I'd like to see more discussion around Lightning Network and sidechains, ways of helping Bitcoin and Litecoin to scale."
The Associated Press (AP) Goes Blockchain
This week the Associated Press (AP) partnered with a blockchain firm that will launch articles using distributed ledger technology. U.S.-based news agency headquartered in New York City is a very well known organization. According to reports an AP spokesperson the Associated Press (AP) explained the firm is "is happy to make AP content available to the newsrooms publishing on the platform and to learn more about how blockchain technology can be used to protect content and support good journalism."
Coinmama's Conclusion
Overall most cryptocurrency enthusiasts are optimistic about the long-term future of cryptocurrencies and blockchain technology. As stated above Bitcoin (BTC) is hovering around $7,050 per BTC, followed by ETH ($290), XRP ($0.34), BCH ($552), LTC ($65), ADA ($0.10), ETC ($13.25), and QTUM ($4.90). As usual, Coinmama will be sure to be on top of all the latest blockchain and digital currency trends. Until next time, Cheers!
Coinmama's review is always on a mission to hunt for the latest topics being discussed within the digital currency space. Follow us here every week to keep up-to-date with current events concerning Bitcoin, Ethereum, and blockchain technology innovation.