Cryptocurrency Markets Consolidate for the Next Big Move
Cryptocurrencies are doing better this spring as they all took a significant dive in value this past winter. Today (01.05.18) the total market valuation for all 1600 cryptocurrencies total over $410 billion USD. Over the last seven days, markets are down in percentages as BTC is down 4.2 percent, ETH (-6.9%), BCH (-13%), and LTC (-10%). The Cardano ADA platform and its native currency ADA is up over the past week as seven-day percentages gained 10 percent. Overall many cryptocurrency enthusiasts and traders across forums and social media are positive the spring months and into the summer will see another rise in cryptocurrency prices.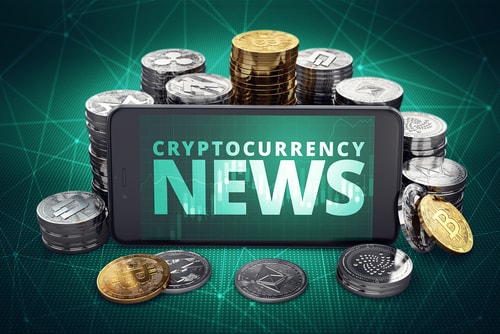 Coinmama's News Roundup
Credit Card Giant Mastercard Files Yet Another Blockchain Patent
According to public information the credit card firm Mastercard has filed for a new patent application that describes a blockchain network with sets of nodes. The concept hopes to increase the nodes knowledge of data distributed across the blockchain network. The company filed the application two years ago and the story is now coming to light. The patent application states in the filing: "The verification of such a large number of blocks may take a significant amount of time, during which new blocks may be added to the blockchain, further delaying the ability for the new node to participate … Thus, there is a need for a technical solution to increase the speed at which a blockchain may be navigated for verification thereof, which can thereby reduce the time required for a new node to begin participating in the blockchain."
The Japanese Financial Services Agency Says 8 Exchanges Have Withdrawn Applications
Last week the Japanese Financial Services Agency (FSA) published responses from a research group concerning digital currencies and regulated exchanges. It seems more than 100 companies are interested in registering as an exchange in Japan. However, a total of 8 trading platforms have withdrawn their filing applications. "Eight deemed virtual currency exchange companies announce the intention to withdraw registration applications…One company confirms that it does not fall under the virtual currency exchange industry as a result of grasping the actual situation in detail," explained the FSA. The Japanese regulator says the eight businesses will not be registered in the country as legal exchanges.
France Lowers Cryptocurrency Taxes
Big news this week for those who live in France as the country's State Council of taxation revealed it would be slashing current financial gain liabilities. According to Le Monde, cryptocurrency taxes will drop from 45 percent to a flat 19 percent across the board. Bruno Le Maire, Minister of Finance, an individual who seems to like cryptocurrencies stated last month, "A revolution is underway, of which bitcoin was only the precursor." The French State Council of taxation also stated, "certain circumstances specific to the transaction of crypto assets which may imply that they fall under provisions relating to other categories of income."
The UN's Children's Fund UNICEF Mines Cryptocurrencies
According to UNICEF's recently launched "Hope Page" visitors who use the page donate processing power towards mining cryptocurrencies. The Hope Page allows visitors to choose how much processing power they want to spare in order to donate. If a user decides to stay on the page for a long period of time the more cryptocurrencies are mined for UNICEF's efforts. UNICEF explains on the website, "Mining is perfectly safe for your computer. If you're ever worried about power consumption, turn down the amount of processing power you're donating."
The Australian Securities Exchange May Replace its System With Blockchain in 2020
This week the Australian Securities Exchange (ASX) said it plans to replace its CHESS system that clears and settles financials with a blockchain. The firm just published an 87-page study on how it expects to be fully operational by the year 2020. Either sometime in the last quarter of 2020 or the first quarter of 2021 according to the paper released on Friday. "Depending on the extent of consultation feedback received, ASX expects to provide a final functional scope and implementation roadmap in late July 2018," ASX details.
Dow Jones Media Group Partners With Brave Browser to Trial Blockchain Tech
In 2015 the firm who launched the Brave Browser a platform that blocks ads created a cryptocurrency called 'BAT.' According to recent reports, the Dow Jones Media Group is trialing the Brave system. Brendan Eich, the CEO, and co-founder of Brave, said during the announcement. "Our new model reconnects users and publishers without compromising privacy, and we look forward to our users enjoying Barron's and MarketWatch premium newsletters." Under the agreement, Brave will provide access to premium content from Dow Jones Media Group to a limited number of users who download the Brave browser on a first-come, first-serve basis, the press release explains.
Coinmama's Conclusion
Positivity and optimism are still alive and well throughout the cryptocurrency community and many enthusiasts believe 2018 will be even better than 2017. Over the past 30-days, most cryptocurrencies are up as far as gains and traders believe the 'bear market' is coming to an end. Make sure you tune in next time as Coinmama covers the latest current events and always interesting news events taking place within the cryptocurrency community.