Coinmama's News Roundup: Cryptocurrencies Hold Tight After a Few Dips
This week cryptocurrency markets have been bouncing around in value as things have been a bit volatile. At the moment the cryptocurrency economy as a whole is valued at $262B and there's about $10-14B worth traded daily on exchanges. Right now the average spot price for bitcoin (BTC) is around $7,080 USD per coin and many other digital assets are following closely with bitcoin's market movements.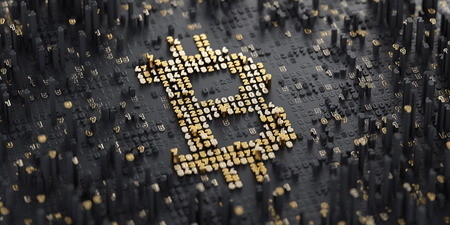 Cryptocurrency values have been heading southbound over the last 48 hours and many digital currencies are down between 10-15 percent over the last seven days. As we mentioned above bitcoin is averaging $7,080 USD per BTC. Ethereum (ETH) is currently $415 per coin followed by XRP ($0.45), BCH ($715), LTC ($75), ADA ($0.13), ETC ($17.75), and QTUM ($6.66).
Bitcoin (BTC)
A few positive things hit the news headlines this past week including the cannabis-focused Magazine hosting its IPO and accepting the cryptocurrencies ETH and BTC. It will be the first regulated A grade IPO investment that allows cryptocurrency use. In other news a leading operator of global exchanges and clearing houses the Intercontinental Exchange (NYSE:ICE) has announced this week the formation of a new company which will create a cloud-based system with Microsoft, BCG, Starbucks, and others that will leverage the digital asset ecosystem. The newly formed Bakkt company will allow "consumers and institutions to buy, sell, store and spend digital assets on a seamless global network," explains the large Wall Street firm ICE. Furthermore, through a partnership with Microsoft, the firm Starbucks will someday soon allow people to pay using bitcoin for coffee, latte and frappe purchases. One BTC is being swapped for $7,080 USD today and there's $4.5B in daily trade volume as well.
Ethereum (ETH)
This week the cryptocurrency and blockchain network Ethereum (ETH) now has its own domain service for the worldwide web. The Ethereum Name Service (ENS) allows the cryptocurrency community to replace addresses with readable names. The service is being bolstered by a group called Minds + Machines Group (MMX), a firm that manages domain listings. Many Ethereum proponents believe the compatibility between the Domain Name Service (DNS) protocol and ENS will continue to solidify Ethereum's goals towards being a world computer. At the moment Ethereum is the second largest market capitalization and is priced at $415 USD per ETH at the time of writing.
QTUM
The Singapore-based QTUM Foundation has recently introduced the blockchain's latest roadmap and new features. The QTUM platform is a hybrid blockchain with a mix between BTC and ETH. The cryptocurrency used the Ethereum Virtual Machine (EVM) but now the development team is slowly transitioning towards their own virtual machines (VM x86). Accordingly, the QTUM developers say the VM smart contracts within the system will be able to power robust decentralized applications (dApps) down the line. The cryptocurrency QTUM is currently trading for $6.66 USD per coin.
Ripple (XRP)
This week on Twitter the team behind Ripple (XRP) revealed that the pop star Madonna is now bolstering Ripple transactions for a charity towards helping orphans from Malawi. The promotion with Ripple was coordinated with Madonna's 60th birthday. "We're honored to be a part of Raising Malawi's amazing work with some of the world's most underserved children," explained Ripple's, Eric van Miltenburg. The month-long charity with Madonna and Ripple will help children in the Home of Hope orphanage in Malawi. XRP has been used for many charities and Ashton Kutcher gave Ellen DeGeneres $4M USD worth of XRP for her Wildlife Fund. One Ripple (XRP) is trading for $0.45 cents at the time of publication and the cryptocurrency hold the third highest market valuation.
Litecoin (LTC)
Just recently the Litecoin Foundation announced claiming a stake in close to 10 percent of a German financial institution called WEG Bank. "I'm excited to announce that Litecoin Foundation and TokenPay have entered into a strategic partnership to buy a stake in a German bank, WEG Bank AG. We plan to work on many exciting consumer-driven crypto solutions — I'm looking forward to integrating Litecoin with the WEG Bank AG and all the various services it has to offer, to make it simple for anyone to buy and use Litecoin," explained the creator of Litecoin Charlie Lee. LTC's are being traded for $75 dollars at press time and LTC holds the seventh highest market cap.
Cardano (ADA)
This week Cardano (ADA) developers published their latest roadmap. Cardona is currently in the Byron layer a bootstrap phase were the development team refines the code and improves the design of Daedalus. ADA is still the cheapest top ten digital asset on the market and is currently trading for $0.13 cents per coin. After the Byron phase, the team will move Cardano into the Shelley deployment where the entire network is freed from all centralization. The lead Cardano developers say there will be three important tenets they will follow which include: "Community growth, a distributed and resilient network, true to Satoshi's original vision, and Balancing the pace of research and development so that commercial advantages do not outweigh the application of scientific rigor."
Bitcoin Cash (BCH)
On August 1, 2018, Bitcoin Cash fans celebrated the one year anniversary of the blockchain split that took place in 2017. The split was the first high profile fork that created two separate blockchains tied to original genesis block. That day the BCH community sent over 687,000 transactions in one day with a median average of around $0.003 per transaction. Not only were there a vast amount of transactions processes that day Bitcoin Cash miners also processed a bunch of big blocks as well as large as 8MB in size. BCH is being swapped for $715 per coin at the time of writing and is the fourth highest valued digital asset market today.
Ethereum Classic (ETC)
On August 3 the core Ethereum Classic development team released a progress report that details the developers latest achievements. According to the blog post, the ETC developers have added three new members who include Mike Lubinets (rust developer), Brooke Evans (human resources), and Donald McIntyre (business development). Further, the team launched Geth release v5.5.0 to the public. "Geth is a multipurpose command line tool that runs a full Ethereum Classic node with 3 interfaces;  the CLI subcommands & options, the JSON-RPC server and Interactive JavaScript console." Today on August 5 the price per ETC is roughly $17.75 per coin.