Coinmama October 2019 Bitcoin News Summary
October is likely to be remembered as the month in which the crypto price correction from the June peak finally reversed. After 3 months of steadily declining prices, which saw crypto valuations slipping despite positive news flow and increasing adoption, a dramatic price surge in late October has set a more optimistic tone for market performance into the end of 2019.
Examining the Bitcoin Price
September saw a dramatic sell-off in the combined market cap of all significant cryptocurrencies. The total cap fell to around the $200 billion level and remained there until the 25th of October, when a strong upwards surge briefly regained the $260 billion mark, before settling around $240 billion. This move occurred on strong volume, signaling a strong likelihood of a changing of the guard; from bearish to bullish. A major shift in official Chinese policy, with blockchain technology now embraced at the highest level, is a coinciding news factor which we'll explore in detail later in this report.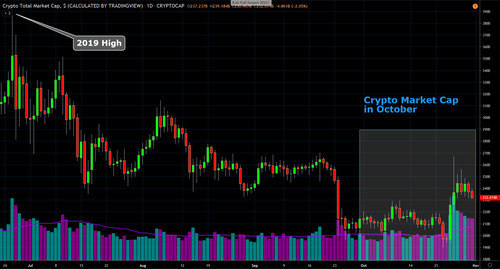 Daily total crypto market cap value courtesy of TradingView.
As per usual, Bitcoin led crypto price action in October. A support level of $8,000 was established in late September and respected until the 23rd of October. A dip through support occurred then, leading many traders to position short, expecting further declines to as low as $4,000. However, the price quickly rebounded, triggering a major short squeeze, which produced Bitcoin's 4th largest price surge ever; up roughly $2,600 in a day. With many Bitcoin bears now licking their wounds, more bullish price action is expected in the lead-up to Bitcoin's next halving, in May of 2020.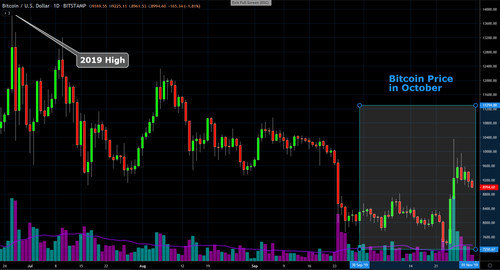 Daily Bitcoin price chart courtesy of TradingView.
As for Bitcoin's share of the total crypto market cap – a measure known as Dominance –  this steadily fell from the 70% level established in September, reaching 68% before rebounding along with price. This action confirms that Bitcoin did indeed lead late October's rally.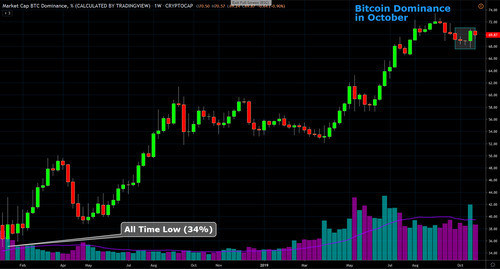 Weekly Bitcoin Dominance chart courtesy of TradingView.
If Bitcoin can hold above the $9,000 level, the next major price target is at $10,000. Given some of the major positive developments in October, Bitcoin regaining a 5 digit handle seems entirely achievable. Now let's examine some of October's stories in depth…
China's Shifting Stance on Crypto
Given that an estimated 60% or more of Bitcoin is mined in China, the Middle Kingdom is to Bitcoin as it is to many other industries; the world's biggest producer. This is why Chinese policy changes regarding cryptocurrency are always market-moving events.
The big story out of China was the announcement made by President Xi Jinping on the 25th of October that China should "seize the opportunity" to pursue blockchain technology. Xi did not specifically address Bitcoin or altcoins, but called for more comprehensive regulations and accelerated investment and innovation in the crypto space. Many interpreted Xi's remarks as laying the groundwork for the eventual launch of a CNY-linked fiat coin, backed by the People's Bank of China. Nevertheless, as the Bitcoin price jumped by $2500, it's clear that the market seemed to like the news.
Xi's statements were followed up by tangible legislative changes from China's Congress. On the 26th, they passed new laws for crypto which will come into effect from the first day of 2020. Although exchanges remain banned, comprehensive new rules for "commercial cryptography technologies" were laid out, which will at least provide greater regulatory clarity for companies. The Congress says the new rules will also stimulate R&D, education, and adoption in the crypto space. As a result, another interesting effect of the high-level shift in China's policy towards crypto, is that remarks calling blockchain technology a scam will now be censored from China's internet.
Crypto Mining
18 Millionth Bitcoin Mined in October
Not only did Bitcoin hashrate make another new high (of 114 exahash) in October but two significant milestones were reached. On the 19th of the month, the total number of blocks exceeded 600,000 and the 18 millionth bitcoin was mined. As only (slightly less) than 21 million bitcoins will ever exist, this means that over 85% of BTC has now been issued. Issuance of new coins will halve again next year, bringing Bitcoin inflation down to a mere 1.8% per annum, which is below most central banks' target rate for fiat inflation.
World's Biggest Bitcoin Mine under Construction in Texas
It was reported on the 22nd that Chinese company, Bitmain, plans to build a huge new Bitcoin mining facility in the US. Bitmain intends to repurpose a shuttered aluminum smelting plant in Rockdale, Texas, into a major new mining facility. Aluminum smelting is highly energy-intensive but less profitable than Bitcoin mining. The plant will launch with 25 megawatts of power which will be stepped up to 50 MW and may ultimately consume as much high as 300 MW. It is hoped the new plant will revitalize the small city's economy.
Worldwide Crypto Adoption
Bitcoin Proving Dependable in Times of Disruption
October saw a lot of economic disruptions around the world, often tied to protest action.  We are seeing growing global instability, with major public unrest in France, Spain, Hong Kong, Chile, Ecuador, Bolivia, Venezuela, Algeria, Egypt, Lebanon, and Iraq. In addition, bank account freezes and ATM outages have been reported around the world, including in Turkey, India, Hong Kong, Chile, and Lebanon, due to either protests, national debt, or fraud.
In times of turmoil, Bitcoin represents an attractive store of wealth that cannot be seized, shut down, or censored. Surging trading volumes in affected countries suggests that average citizens are catching on to Bitcoin's relative safety. Lebanese economic expert and author, Nassim Taleb, tweeted the following in response:
Bermuda Becomes First Country to Accept Taxes in Stablecoins 
It was announced on the 16th that the tax haven of Bermuda will accept Dollar-based stablecoin, USDC, for tax payments. USDC is issued by two major American exchanges. Although it's unlikely that many of Bermuda's 60,000 residents will use this payment method, it's another interesting first for crypto integration.
Crypto Trading
2019 Best Performing Asset Award Goes to… Bitcoin!
Goldman Sachs called Bitcoin the best performing asset of the year. Reported in early October, Bitcoin now looks even better in comparison to commodities, stocks, and bonds following its rise later in the month. Whereas Bitcoin is up nearly 150% this year, the best performer in the traditional market, US tech stocks, are up a comparatively modest 31%.
Bitcoin Futures Price Suppression Revealed by Former CFTC Chairman 
America's government took deliberate action to burst the Bitcoin bubble of 2017, according to Christopher Giancarlo, who headed up the Commodity Futures Trading Commission until his recent retirement. Reported on the 25th, Giancarlo's statements reveal that unbacked Bitcoin futures trading was allowed on US exchanges in the hope it would lead to major shorting activity which would crash the price. Bitcoin's price did indeed collapse shortly after futures went live on the Chicago Mercantile Exchange and CBOE Futures Exchange.
Crypto Taxation and Regulation
SEC Blocks Telegram ICO Token Distribution in the US 
US financial authority, the Securities and Exchange Commission, sought a restraining order against the company behind the popular messaging app, Telegram. The SEC is blocking the distribution of Telegram's ICO tokens, "TON," which raised around $1.7 billion for the company's cryptocurrency. Unless conducted with the SEC's permission, the sale of ICO tokens to US citizens is considered by the agency to be an unlawful security offering.
IRS Publishes New Crypto Rules
US crypto fans take note: the US Internal Revenue Service revised its rules for crypto taxes on the 9th of October. The fresh guidance covers new circumstances that were previously regarded as grey areas. For example, crypto forks and airdrops are now taxable. As such derivative coins tend to be automatically awarded by exchanges in proportion to a user's deposits, this could lead to a situation where users are taxed on the coin's initial value even though its current value has greatly diminished. One more reason never to store your coins on an exchange!