June will be remembered as the month in which the world decided to buy Bitcoin with a vengeance. Strong demand saw BTC regain a 5 digit price handle; blasting above $10,000 on the 21st to reach almost to $14,000 by the 26th.
Bitcoin led the entire crypto complex higher; its value rose from a low of $224 billion to a high of $387 billion, for an increase of roughly 72%. Trading volumes reported by exchanges were at all-time highs, indicating broad-based participation in the rally.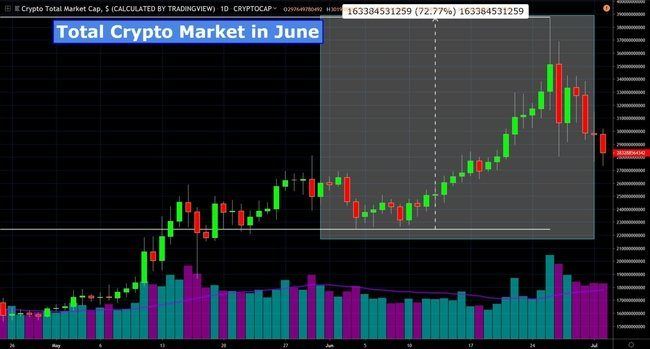 Total crypto market in US Dollars, chart courtesy of TradingView.
The Bitcoin price was up roughly 86% in June, as measured from trough to peak. After reaching nearly $14,000, its highest price point since January 2018, price retracted and entered correction mode. Nevertheless, with $10,000 decisively broken mid-year, many are eyeing the charts with renewed optimism for Bitcoin's price performance during the second half of 2019.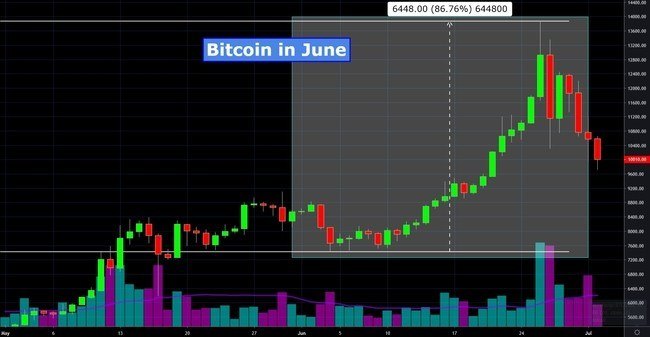 Bitcoin in US Dollars, chart courtesy of TradingView.
As the Bitcoin price achieved a percentage increase well above that of the total crypto market cap, it's no surprise that BTC dominance (defined as Bitcoin's value as a share of the total market value) increased proportionally. In fact, Bitcoin hit its highest level of dominance since mid-December 2017, at a grand total of 66% of the total value invested in crypto, signaling that people are looking to buy Bitcoin much more than altcoins at the moment.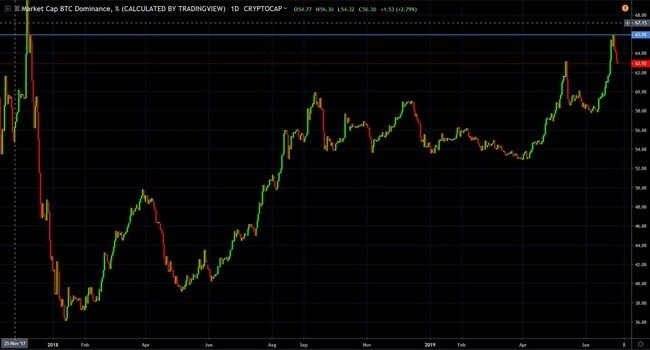 Bitcoin dominance calculation, chart courtesy of TradingView.
June was another typically tumultuous month in the crypto space. There were a lot of signals of growing adoption and awareness, as well as continued technical improvement. However, there were also some hacks of smaller exchange as well as fresh regulatory threats to contend with.
Here are last month's standout events, separated by theme:

Crypto Adoption
Around the start of the month, Apple quietly introduced the Bitcoin "₿" symbol into its SF Symbols font set. Microsoft previous included the BTC symbol in its Excel and Windows 10 default font sets in late May.
In mid-June, a crypto data service reported that Bitcoin once again has over 1 million addresses which are transacting daily. This level of activity has not occurred since the Bitcoin price frenzy of late 2017, when it seemed like the whole world was determined to buy Bitcoin. This data is a clear signal that user activity is increasing on the Bitcoin network. Unlike in late 2017, Bitcoin transaction fees remain reasonable, thanks to more efficient practices and network upgrades like SegWit.
One of the most talked-about and controversial subjects in June was Facebook's planned Libra coin. Libra is best understood as a hybrid of XRP and a stablecoin. As with XRP, it's a permissioned digital asset, whose blockchain is controlled by a consortium of pre-approved entities (27 mostly-corporations, in Libra's case). As with a stablecoin, Libra's value will be pegged to traditional assets, such as bank deposits and government bonds.
Can't wait for a cryptocurrency with the ethics of Uber, the censorship resistance of Paypal, and the centralization of Visa, all tied together under the proven privacy of Facebook. https://t.co/C4FymDjtFw

— Sarah Jamie Lewis (@SarahJamieLewis) June 14, 2019
Many commentators voiced their skepticism on the prospect of "Zuckbucks."
Libra drew the attention of many outside the crypto space. Well-known economist, Joseph Stiglitz, criticized it and US politician, Maxine Waters, demanded that Facebook halt the currency's development pending the outcome of a hearing. Whatever its ultimate fate, Libra is another clear signal that central banks are losing their monopoly over money.
Bitcoin Mining
UK-based crypto research group, CoinShares, released a report in early June on the state of the Bitcoin mining industry. The most compelling finding was that 74% of Bitcoin mining is being conducted with renewable energy. This is roughly 4 times higher than the average global renewable use rate. Most Bitcoin mining occurs in regions with access to low-cost hydroelectric power, with about 60% of Bitcoin mining currently located in southwestern China for this reason. The report also concluded that Bitcoin mining with efficient hardware is highly-profitable at this time.
In an apparent confirmation of the report's findings on profitability, Bitcoin's hashrate hit a fresh all-time high around 78 exahash on the 20th of June. That's 78 quintillion hash calculations per second which miners around the world are performing.
As an example of the continued push to enter the mining space, a plan to create the largest solar-powered Bitcoin mining farm in North America was publicized on the 25th of June. Plouton Mining is constructing a 49-acre solar panel array in sunny California in order to mine Bitcoin. The farm is expected to generate between 10 and 13 megawatts during daylight hours, which is enough to run roughly 4,750 to 6,200 Antminer S17s.

Crime & Punishment
Bitsane, a crypto exchange based in Ireland, disappeared from the internet in mid-June, taking with it the funds of as many as a quarter million users. Bitsane was a fairly popular venue to buy Bitcoin and XRP, reaching over $7 million in daily volume this year. The full extent of user losses is as yet unknown.
Another issue attracting a lot of attention in June was the ongoing trial of self-proclaimed Bitcoin inventor, Craig Wright. As a result of Wright's cryptographically-unsubstantiated and factually dubious claim that he invented Bitcoin, he is being sued by the brother of deceased computer genius, Dave Kleiman. Wright claimed Kleiman as a collaborator in the creation of Bitcoin, and Kleiman's brother feels this entitles him to a share of "Satoshi Nakomoto's" tremendous Bitcoin wealth. Wright was ordered to appear in a Florida court to prove his ownership of early Bitcoin addresses, but was unable to provide any such proof. This complex trial will resume on August 7th.
On the 23rd of June, it was reported that two Israeli brothers were arrested in Jerusalem for cryptocurrency fraud and theft. It is alleged that the duo, Eli and Assaf Gigi, stole as much as $100 million. They used phishing methods in Telegram groups to obtain login details from numerous crypto exchange users, and then drained their accounts. The two are also accused of hacking Bitfinex in 2016.

Regulation
America's SEC, which oversees the American securities industry, filed a complaint against Kik Interactive in early June for its Kin ICO. Kik makes the popular messaging service of the same name. The SEC contends the ICO was an unlicensed securities offering to American citizens. The SEC is seeking a $100 million fine and, whatever the outcome of the case, future ICOs will be discouraged from marketing to US citizens without first gaining SEC approval.
The Department of Federal Revenue in Brazil has passed new laws which compel local crypto exchanges to give up all data on users and their transactions. Brazilians who buy Bitcoin or other trade cryptocurrency on foreign exchanges are also targeted under the new regulations. The agency wants all relevant information on such users and their transactions if they exceed $7,750 in monthly value. The stated reason for the new laws, reported around June 19th, is to identify tax evasion.
Finally, the state of Iran is cracking down on crypto miners in the country. In late June, 1,000 ASIC miners were seized. The devices were running on subsidized power inside 2 abandoned factories. As the country suffers under economic sanctions, citizens are motivated to buy Bitcoin or undertake Bitcoin mining to preserve their wealth. It also came to light during June that roughly $260,000 worth of Bitcoin was mined in the country inside over 100 different mosques, which receive free electricity.