Bitcoin News Roundup: What's Craig Wright HODLing?
It was mostly downhill for the Bitcoin price this week, which started at 10,800 USD last Sunday and ended at 9,500 USD last night. Considering how things have been recent, despite the overall downward trend, it was still a relatively quiet week for the cryptocurrency. In fact, other than a 500 USD price drop in the span of 20 minutes, the Bitcoin price chart was fairly undramatic. It seems that volatility returns about every other week, so we'll see if the stability remains and becomes a trend, or if we'll be bouncing about again next week. But the real question everyone has is whether the current price correction below 10,000 USD is a sign of the return of the Bears, or if it's just a small bump in the road on the way to a bigger price rally. We don't know the answer, but if you're in the Bullish camp, now might be the time to buy Bitcoin.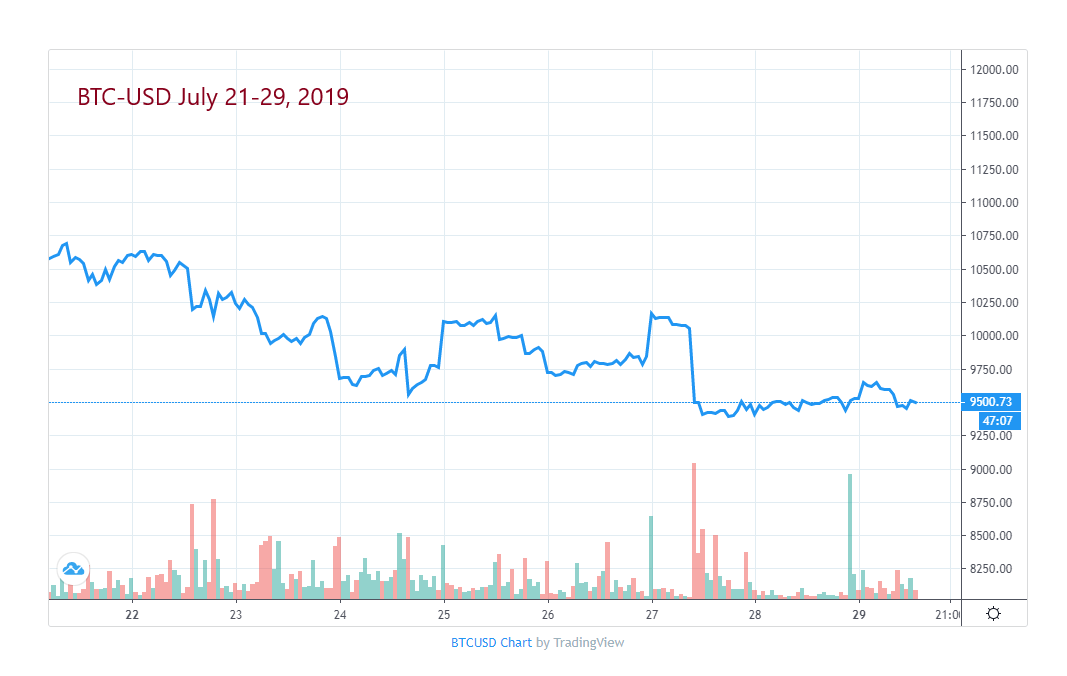 Studies show we're all HODLing
Speaking of buying Bitcoin… Coin Metrics took a look at the "State of the Network" and showed that an all-time high of almost 4 million BTC hasn't been touched for at least five years—meaning, they haven't been transferred to anyone else. That's approximately 40 billion USD worth of Bitcoin, and about 20% of the total BTC supply. While we hope that's not all due to people who have lost the private keys to their wallet, it raises interesting questions about why people buy Bitcoin and how it's being used, especially since it's worth remembering that it only takes into account coins that are truly untouched, and not BTC that is being traded but not spent.
Who is Craig Wright? (Or who isn't he?)
Craig Wright is known for Bitcoin SV, currently the #9 cryptocurrency by market cap. But is he also Satoshi Nakamoto, Bitcoin's pseudonymous inventor? He'd sure like you to think so. Wright claims to be Satoshi—something most people are skeptical of—but those claims have also put him in a bit of a pickle, as he is currently in the middle of a courtroom feud with the estate of his former business partner, Dave Kleiman. If Wright really is Satoshi, then Kleiman's estate, arguing that the two men developed the currency together, wants a piece of the 1 million BTC Wright is supposedly sitting on. (For those of you keeping track at home, that's a quarter of that 4 million untouched BTC.) If it's proven that Wright really is Satoshi, the longstanding mystery will be solved, but will also put Wright about 10 billion USD in the hole.
This Week in Bitcoin Politics
Unlike Trump, who has tweeted his disdain for Bitcoin, Democratic presidential candidate Andrew Yang is in support of cryptocurrency. So much so that he's accepting political donations in BTC—well, at least a pro-Yang PAC is. While different US states have different regulations regarding political donations made in cryptocurrency (in California they're a big no-no), this marks one more step towards Bitcoin adoption, and towards cryptocurrency becoming an issue of note in the 2020 elections. We're curious to see if more candidates follow suit, and who benefits the most from it.
Join us next week as we cover more Bitcoin price action and the top Bitcoin news here on Coinmama.