Coinmama August 2019 Bitcoin News Summary
During August, the value of the total crypto market retraced the significant gains it made in late June and early July. The sell-off has been partly blamed on the liquidation of ill-gotten funds by a massive Chinese Ponzi scam, a story we'll cover in more detail below.
From the 2019 high of roughly $385 billion set on the 26th of June, total market cap has declined by around 40% to its current value of $239 billion at the end of August.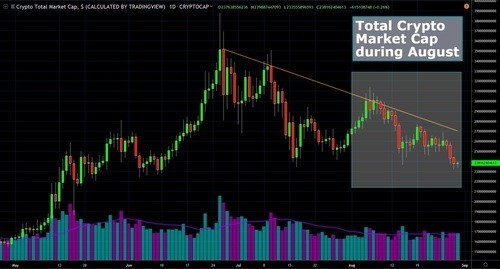 Daily total crypto market cap value courtesy of TradingView. 
A clear downtrend was established, visually indicated on the above chart by the orange line which connects the peaks of late June, early July, and August, in a series of lower highs. This downtrend will have to be overcome before the market can resume the upwards climb which began in April of this year. The situation looks similar but slightly more positive for the Bitcoin price. As discussed in our recent article on the importance of Bitcoin Dominance, from the start of 2018 Bitcoin has been outperforming the rest of the crypto market. In August, Bitcoin's share of the total crypto market's value reached slightly above 72.5%, which is its highest level since July of 2017.
Compared to the general crypto market chart above, the angle of the downwards-sloping trendline on the Bitcoin price chart below (depicting the same timeframe) is less steep. In combination with Bitcoin's rising Dominance, the conclusion is obvious: altcoins experienced a more aggressive sell-off than Bitcoin. Note also in the below chart that the Bitcoin price is balanced on a significant Support / Resistance line around $9,400, which price has reacted to multiple times this year. Whether this line holds or breaks is likely to set the tone for price action during September and perhaps beyond.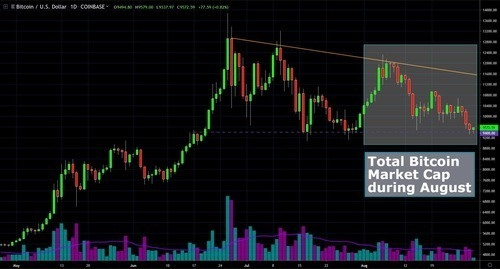 Daily Bitcoin price chart courtesy of TradingView.
As for consequential crypto events, as usual, there was no shortage of them throughout August. Here are some of the main trends and events we were watching:
Crypto Adoption
Fidelity Investments is one of the world's largest financial firms, with nearly $2.5 trillion in assets under management. This year, Fidelity began a crypto custodial service to store private keys for its clients and also launched a crypto exchange for retail investors. On August 9th, it was reported that Fidelity is collaborating with Bitcoin technology firm, Blockstream, to enter the crypto mining space. Blockstream's new Mining division will mine on its own behalf and host mining equipment other companies in its new data centers in Canada and the USA.
Around the 5th of August, a user known as Rhythm tweeted a notable insight. According to his data, Bitcoin's market capitalization around the start of August made it the 11th most valuable form of money in the world! Rhythm was comparing Bitcoin to the base money supply of major global fiats; base money being physical notes or coins. Gold was also included in his comparison and has the highest value of all. Bitcoin held more value than either the Canadian or Australian physical money supply.
The tax agency of New Zealand announced some good news for crypto users on the 7th of August in its Tax Information Bulletin. According to the country's Inland Revenue Department (IRD), wages and salaries may be paid using cryptocurrencies, starting in September. Income tax is to be paid as per usual. However, only cryptos that are currently exchanged for currency are acceptable under the new ruling.
Crime & Punishment
Binance exchange announced in a blog post dated the 5th of August that they'd received a ransom demand from a hacker. Unless Binance paid 300 BTC, the hacker threatened to release hacked Know Your Customer (KYC) data for about 10,000 registered Binance users. Binance refused to comply with the hacker's demands, and the information, including identity verification selfies, was leaked online in a Telegram channel. Binance offered a bounty of 25 BTC for information on the hacker.
On August 14th, Chinese crypto venture capitalist, Dovey Wan, tweeted to bring to highlight the market risk posed by PlusToken. This massive Ponzi scam targeted Chinese and Korean investors and took in an estimated $3 billion in value, spread across 200,000 BTC, 800,000 ETH, and 26 million EOS. One member of the scheme was arrested by Chinese police but several others remain at liberty. Dovey Wan believes – and provides evidence to support her view – that these members are aggressively liquidating their takings across various crypto exchanges, exerting major selling pressure.
On the 21st of August, it was reported that several workers at once of Ukraine's nuclear power stations were arrested for running a cryptocurrency mining operation within the facility, risking its safety. Energy was diverted from the plant to power cryptocurrency mining and the facility's computer system was connected to the internet for mining purposes, compromising secrecy and security. 22 graphics cards were confiscated along with other crypto mining equipment – although no ASICs were reported, which suggests the workers were not mining Bitcoin.
Crypto Taxation
Early in August, several crypto users in the United States reported their receipt of a "nastygram" – a letter from the country's tax agency reminding them of their tax obligations in regards to cryptocurrency. The Internal Revenue Service (IRS) published a notice on its official website regarding the letters, warning that taxpayers who fail to pay their crypto taxes will be fined or even prosecuted. Crypto users speculate that their data and transaction records were handed over to the IRS by various US crypto exchanges.
A similar story from the United Kingdom was reported on the 6th of August. The country's tax agency, Her Majesty's Revenue & Customs, contacted three major crypto exchanges which operate in the UK, demanding that they provide their clients' identity information and transaction records. Coinbase, CEX.io, and eToro were all served with the notices and will likely have to comply (or contest the matter in court).
Crypto Regulation
While it's clear that the US (and other countries) are stepping up their crypto taxation efforts, it appears they've realized the futility of attempting to ban crypto. In early August, we learned that during a meeting of the US Senate's Banking, Housing, and Urban Affairs Committee, the Chairman stated that he was "pretty confident we couldn't succeed in" banning cryptocurrency.
The United States' regulator of financial markets, the Securities and Exchange Commission (SEC) made headlines in early August when the crypto community learned that the agency had published a crypto-related solicitation on its official website. The SEC seeks to contract a company in order to set up and maintain a full crypto node (or nodes) so that the agency can monitor crypto blockchain(s), presumably for purposes of regulatory oversight.
Crypto Geopolitics
Steve Bannon, who many regard as the mastermind behind Donald Trump's successful election campaign, stated in an August 2nd interview on CNBC that he believes crypto has a role to play in what he terms the "global populist revolt." Bannon sees crypto as a means of liberation for the average person, whose interests are not being served by the political establishment. He further believes that crypto will eventually replace the US Dollar.
The Governor of the Bank of England, one of the world's oldest central banks, echoed Bannon's remarks. Speaking at the central banking symposium held in Jackson Hole in Wyoming, USA on the 23rd of August, Governor Mark Carney suggested that the US Dollar's role as global reserve currency is coming to an end. Carney went further in his bombshell speech, suggesting that (and here we paraphrase) cryptocurrency will the asset against which all global fiat currencies will depreciate, in order to discharge the world's unsustainably high levels of debt.