This year, celebrate Galentine's Day with Bitcoin!
We're not going to lie: Coinmama was originally planning a Bitcoin Valentine's Day post. Flowers, Jewelry, the works. But the truth is, we think a sitcom inspired holiday is much more fun to celebrate than a Hallmark inspired one. And with women in crypto woefully under-respresented (true story: only about 10% of crypto investors are female), crypto-gals need all the support they can get. Also true: dinner reservations are much easier to obtain on February 13th than they are on the 14th. So with our BFF on our mind, here's how to go all out on Galentine's Day with nothing but your Bitcoin wallet.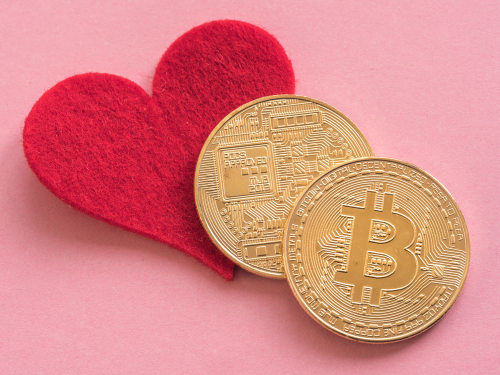 If you love Bitcoin so much, why don't you marry it?
Reeds Jewelers' selection of engagement rings (all buyable with Bitcoin) makes us swoon. But don't worry if you're not quite ready for a life-long committment of that sort: Reeds is much more than rings, and nothing says "best friend forever" like matching friendship bangles. Pick up a pair and show your bestie how much she means to you.
Start with a mani-pedi
While Bitcoin still hasn't gone totally mainstream, sites like gyft.com make it easy to convert Bitcoin into versatile gift cards. A spa & wellness card that's usable at 9000 locations across the US and Canada means a BFF mani-pedi should definitely be on the agenda. We're thinking Bitcoin orange would look good…
Hit a Chick Flick
Queen of buddy comedies Rebel Wilson has a new movie, Isn't it Romantic, and we think it's no coincidence that it comes out on Galentine's Day. Want to view it on opening night? Head back over to gyft.com where you can use your Bitcoin to pick up a gift card to AMC, Regal, or Fandango. Don't forget the popcorn!
Drink some bubbly
Canned wine is perfect for sneaking into the movie theater, and canned bubbly is even more festive! Luckily, De Wine Spot sells exactly that and sells it for Bitcoin. It may not be official champagne, but that doesn't mean it's not delicious.
Finish with a heart-to-heart
Ok, maybe it doesn't have to be as serious as a heart-to-heart implies, but Galentine's Day wouldn't be complete without girl-talk. Move the celebration to your couch, and order from Menufy.com, which makes it easy to get food with Bitcoin, without leaving the house.
The moment of truth? A Bitcoin Galentine's Day is easy and fun to plan, and we suspect even more fun to partake in. (We'll know for sure on February 13th!) So come on, ladies, let's get our crypto representation up and start celebrating the amazing women we are.