Bitcoin's Price History in Q1 2019
Here's a brief summary of Bitcoin's price history over the past couple of years: amazing in 2017, terrible in 2018. The following chart from Trading View illustrates the point:

Weekly chart of Bitcoin's US Dollar price (BTC / USD) and volume from the start of 2017 until now.
The obvious peak occurred in December of 2017.
The question on everyone's mind is of course "how will Bitcoin's price perform in 2019?" While nobody can answer this question with any certainty until the start of January 2020, early signs from the first quarter are encouraging…

Daily chart of BTC / USD from the start of 2019. Note February's change from bearish to slightly bullish, then the spike in early April.
Bitcoin's Price History in 2019 Q1
We can divide Bitcoin's 2019 price history into 3 distinct phases:
1) Sideways to Down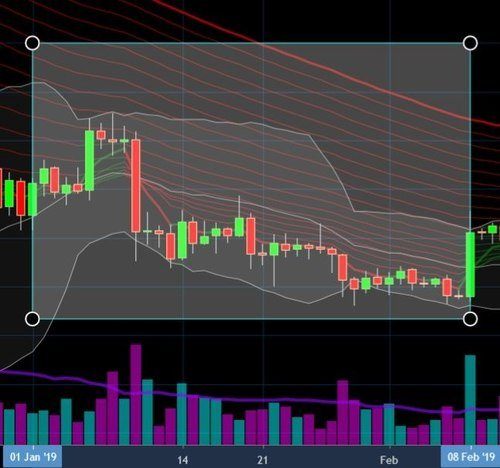 Bitcoin price was rather directionless from late 2018 until fairly recently. This lackluster phase persisted for most of the first quarter, during which volumes were generally low. From December of 2018 until April 2019, price traded largely sideways, with minimal price volatility (particularly when contrasted against Bitcoin's usual, exceptionally high price changeability).
This low volatility lull is indicated visually by the Bollinger Bands (gray lines) on the above chart. The Bands contract when the price is static and expand with increasing volatility. As volatility diminishes, the Bands squeeze ever tighter around the price, until eventually a candle breaks through the Bands when volatility returns to the market. If the breakout is confirmed by a sustained directional movement, this is often seen as the beginning of a new trend.
Despite the apparent calm, subtle signs of patient accumulation by those betting on a further upside for Bitcoin were apparent, if one knew where to look… Rising transaction volume was one such indicator: Following a peak which coincided with the price peak in late 2017, transaction volume bottomed out in early to mid-2018, and has been steadily increasing since.
Another such signal was the subtle shift in price action beginning with the large green candle and volume bar seen on the 8th of February. From this point on, there were more green than red candles on display. Even if the green candles were short and unremarkable, over time they revealed an upwards-curling tendency.
Beyond purely technical signals, there were also plenty of fundamental reasons to expect a price recovery. Beyond a lot of positive news flow for Bitcoin and crypto in general, the next Halvening is peeking over the horizon, and expected in May 2020. This 50% reduction in the supply of new BTC issuance can, logically, lead only to a dramatic price increase; provided that demand holds steady. Indeed, this pattern of rising price resulting from constrained supply has been observed around all previous Halvenings.
Buy Bitcoin Today
2) Sideways to Up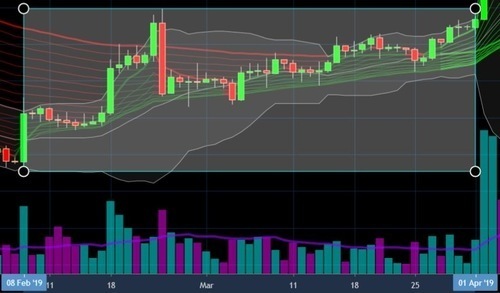 As price repeatedly tested support in the low $3,000s, yet failed to break below to the $2,000 (and even $1,000 ranges) which more market bearish participants were targeting, a definite shift in sentiment occurred. Fear, instilled by the vicious crash from the $20,000 peak, gradually faded away. Eventually, the majority of participants began to doubt the bear's increasingly shrill calls for a further price collapse.
These bears were gradually crowded out by those with an expectation of future gain, who were only too happy to scoop up cheap coins from the bears. Such players were patient, accumulating coins over time, so as not to trigger a bull run before they'd filled up their wallets. Their steady buying saw the market slowly levitating from the $3,000s, and then stabilizing slightly below $4,000.
3) Spiking and Holding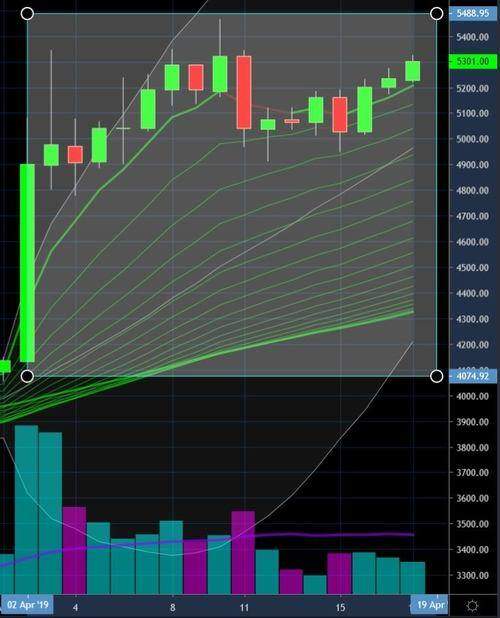 Eventually, demand for Bitcoin at this "discount" price level approaching $4,000 simply exhausted the supply of coins available at that price. Everyone who wanted to sell had already sold and so, in early April, the price had nowhere to go but up. This occurred on the 2nd of April, when a large green candle launched Bitcoin's price from around $4,100 to above the $5,000 level.
Why was the upwards move so explosive? Probably because so many of the bears mentioned in phase 2 were still shorting the market, many using leverage. A massive short squeeze was in fact recorded on April 2nd, perhaps triggered by some large buy orders spread over various global exchanges. The bears were caught with their "shorts" down when strong upwards direction returned to the market. They had to buy Bitcoin at any price in order to close their shorts, thus driving the price up and triggering other shorters, and so on… This process is often what drives such spikes, assisted by momentum traders.
That the price has since consolidated above the $5,000 level rather than retracing immediately gives further cause for cautious optimism. Bitcoin last traded above $5,000 back in mid-November of 2018, during a catastrophic week which saw price collapse from above $6,000 down into the low $3,000s. It's taken nearly half a year to return to that level, but the market sentiment appears to be that Bitcoin bottomed in the $3000s and is now set on an upwards trajectory. Of course, such expectations should never be taken for granted…
A Promising Portent from the Mayer Multiple
Trace Mayer's eponymous Multiple works by dividing the current Bitcoin price by its average price over the last 200 days. According to Trace's extensive testing, this provides a solid reference for what constitutes a high or low Bitcoin price… As all traders know, all that's necessary to succeed in markets is to follow the maxim of "buy low and sell high." This glib advice is much easier to follow in practice when you have an "altimeter" like the Mayer Multiple.
Trace's general advice on using his indicator is to accumulate Bitcoin whenever the Multiple is below 2.4. Implicit in this advice, is to take profit whenever the price is above that level. Following this strategy would have ensured that you sold off during market peaks, ensuring great profits to put towards accumulating more BTC during less frenzied phases.
Something else has been noticed regarding the Mayer Multiple. When it shifts above 1 and stays there, that's twice indicated the beginning of a long term uptrend: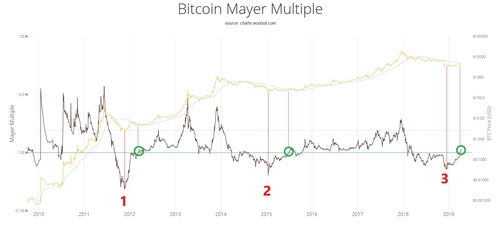 Twitter user CryptoKea pointed out this suggestive pattern in the Mayer Multiple.
(Bitcoin's log scale price is in gold, the Mayer Multiple is in black, the level of 1 is in green.)
In early 2012, this signal (1) presaged the massive bull trend which ended with the collapse of Mt. Gox in late 2013. The Multiple tripped over the green level again in mid-2015 (2), then held it all through the tremendous bull run which ended in late 2017. Starting in April of 2019, the Mayer Multiple has again pushed above the green line, leading some to believe that a new bull may indeed be gathering its strength.