Bitcoin Price Predictions: 2018 and Beyond
Over the years many people who are passionate about the decentralized cryptocurrency bitcoin have made some wild predictions of what the price would be a few years later. Some individuals predicted that bitcoin would reach phenomenal price ranges around $10,000-20,000 USD — The Fact is, lots of these believers were right, and the digital asset bitcoin reached an all-time high of $19,600 per BTC on December 16, 2017. Now in 2018, many people wonder what the new year will bring as far as bitcoin's value and what kind of forecasts people have for the price over the next eight months and beyond.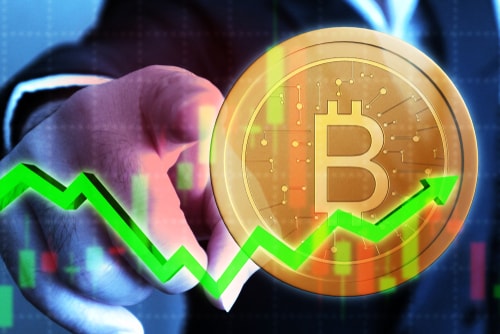 Eight Years Ago 10,000 Bitcoins Sold for Two Pizzas — In December 2017 Bitcoin Sold for $19,600 Per BTC
Bitcoin is almost a decade old and over the years the currency has increased in value from a couple of pizzas to $19,600 per BTC this past December. The currency is still up over $7,000 more (420%) than the year prior as the digital asset bitcoin is currently priced below the $10K region at the time of writing. Interestingly enough there are a few people who predicted BTC would rise to $10k by 2018, like the analyst Tom Lee from Fundstrat predicted it one year prior. The well-known venture capitalist Tim Draper also predicted bitcoin would rise past the $10K zone four years before it came to fruition. After 2017's phenomenal run many people wonder what's in store for 2018 and beyond.
Four Years Ago Tim Draper Correctly Predicted Bitcoin Would Hit $10K by 2018 and His Prediction Came True — Now Draper Predicts $250,000 by 2022
Speaking of Tim Draper, the investor now believes BTC will surpass $250,000 by the year 2022 or less than four years away. People look up to Draper's forecast because he was right once before back in 2014. At a blockchain event held at the well known Draper University in San Mateo, California, the investor told attendees, "Believe it, it's happening." After being asked relentlessly by reporters since the beginning of 2018 Draper had been resistant towards giving his prediction.
However, at the blockchain event on April 12, Draper noted, "I'm thinking $250,000 a bitcoin by 2022 — Believe it, it's going to happen; they're going to think you're crazy but believe it, it's happening, it's going to be awesome."
Pantera Capital $20,000 Per BTC by the End of 2018
Just recently the investment firm that's focused on cryptocurrencies and blockchain technology companies, Pantera Capital, stated the firm believes BTC prices will touch $20,000 by the end of this year. Pantera Capital released statements on its forecast to the Wall Street Journal as the company seems very optimistic about the year end. The firm's CEO Dan Morehead told fellow colleagues that he has strong "convictions" about the price path for 2018. Morehead said in his "professional opinion is that we're in the first innings of a multi-decade trade," due to the currency following below its 200-day moving average as this "buy signal" barely ever happens.
"If you can buy something at $7,000 which was $20,000, it's probably a good trade," Morehead added.
The Managing Partner of Full Tilt Says $50K by the Year's End
There are a lot of people who are 'bullish' about the price of bitcoin in 2018 and the 'Full Tilt' analyst Anthony Pompliano is one of them. On Cheddar TV the analyst believes $50,000 per bitcoin is an easy task for the market to obtain. Pompliano stated his opinion as BTC was below the $7,000 region this past February. On the Cheddar broadcast the Full Tilt managing partner Pompliano gives his fundamentals on why he sees a strong "recover" by the end of 2018.
Fundstrat Global Advisor Tom Lee $25K by 2018 and $125K by 2022
Another believer in all-time high prices by the year's end is the analyst and co-founder of Fundstrat Global Advisors, Tom Lee. The well-known advisor often appears on CNBC and Fundstrat provides data on BTC markets like the firm's recent misery index report. Lee believes that the price per bitcoin will be $25,000 speaking with the publication Investopedia. "Old is gold but new is crypto" the advisor explains. Lee also believes by the year 2022 the price per bitcoin will exceed $125,000. Lee did predict the $10,000 mark one year before the price exceed $10K per BTC so people look up to Lee's forecasts as well.
Both Positive and Negative Bitcoin Price Predictions Have Been Happening for Years
There are many other bitcoin proponents and believers such as Max Keiser ( $28,000 2018),  John Pfeffer ($75,000 2018), and many more. Of course, there are those from the incumbent financial system who wish nothing but doom and gloom for cryptocurrency markets. Some of the same CEOs from the giant financial institutions and central banks believe cryptocurrencies won't do well over time, but so far they've been proven wrong year-after-year.
For instance over the past five years, except for 2014, bitcoin has been the best preforming currency over every single nation-state issued fiat like the euro, dollar, pound, yen, renminbi, ruble, and more. After 2017's market action an incredible price run for BTC in 2018 like the year before is not out of the question and predictions between $20,000 to $100,000 bitcoins is not an outlandish thought these days.