April 2019 News Summary
April proved to be an excellent month for cryptocurrency markets, certainly the most bullish month of 2019 thus far. A high volume price spike, which occurred just after April Fool's Day, was confirmed as genuine demand when prices held this elevated level throughout the month and into May.
From March's close of around $144 billion in total crypto value, April's increase added roughly $30 billion to the industry, realizing a healthy 20% increase: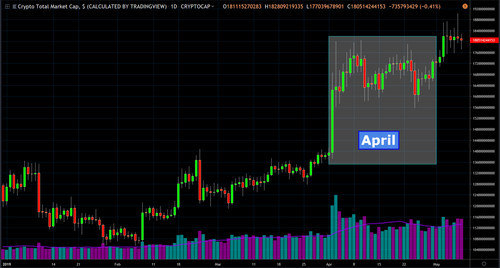 Chart courtesy of TradingView.
As we alluded to in our recent article on Bitcoin Maximalism, lately BTC has been outperforming the general crypto sector. BTC hit a high of around $5,650 during April. CoinMarketCap records a peak of 54.8% for Bitcoin's share of total market cap during April: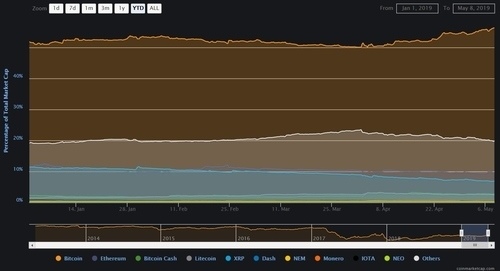 BTC dominance in orange, chart courtesy of CoinMarketCap.
During the early phase of a crypto bull market it's common for Bitcoin to outperform in this manner. While it may seem premature to assert that a bull market began in April, the market's current performance and sentiment would tend to support this view.
Furthermore, markets were resilient despite some concerning news regarding a major crypto exchange. Could this be a case of a bull market shaking off bad news?
Speaking of news, here are the major events and trends we observed during April:
Bitcoin Network Growing Stronger
Usage stats like the average number of transactions per block and average block size made new all-time highs in April:


Transactions per block, courtesy of Blockchain.com.
Interestingly, transaction fees remained relatively flat during this same period: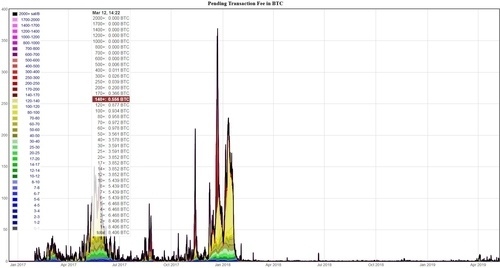 Fee stats since January of 2017, courtesy of Johoe's site. Note that while (slightly) more transactions are occurring than in late 2017 / early 2018, fees are nowhere near the nosebleed levels experienced then.
What these stats reveal is that Bitcoin is scaling successfully, by processing more transactions at a reasonable fee. The combination of SegWit, Lightning, and improved transactional efficiency by exchanges (incorporating batched transactions) and individuals is demonstrably improving Bitcoin's capacity.
Note: rising prices attract more entrants. If price (and thus volume) keeps going up, eventually Bitcoin will hit its transaction processing limit again, even though that level is now much higher. That may be the trigger for a rotation into altcoins – just something to watch out for.
Censorship Resistance, Not Just for Transactions
One of the more interesting developments in April was the announcement that Gab, the free speech social media platform, intends to release a fork of the crypto-incentivized Brave browser. Brave is open source, so nothing prevents Gab from using their code as the basis of their own internet browser. The rub is that Gab intends to remove Brave's Basic Attention Token (BAT) altcoin and integrate Bitcoin Lightning Network rewards instead. Gab's browser will also contain their Dissenter app, which allows users to comment on any page on the web, as a workaround to censored or locked comment sections.
Amid creepy tales of China's dystopian social credit system, Internet censorship is becoming a hot topic. Major social media platforms like Twitter and Facebook are in the news for blocking users based on political persuasion. The cryptocurrency community, rooted in the anti-authoritarian ethos of the cypherpunks and libertarians, tends to support free speech. After all, one of Bitcoin's major features is that its transactions are censorship resistant. Decentralization as a solution to the growing problem of online censorship is a trend that's just getting started, and decentralized money has a big role to play in the fight for a free internet.
One interesting quirk of this story is that the CEOs of micro-messaging platforms on opposite sides of this censorship issue, Twitter's Jack Dorsey and Gab's Andrew Torba, are both actively promoting Bitcoin and Lightning to their millions of users.
Rapid Lightning Development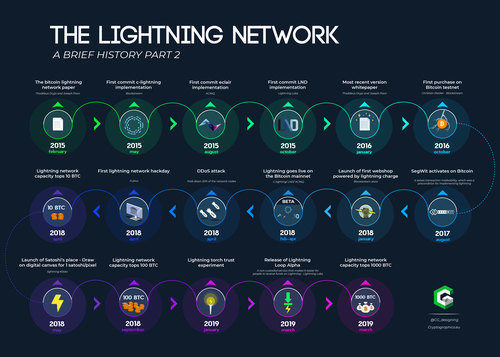 Timeline of the Lightning Network, courtesy of Cryptographics.eu.
The Lightning Network is reaching new milestones and integrating new features on a weekly or even daily basis. During April:
Big Business
The long-running trend of corporate investment into blockchain technology continued across April. Lots of major companies announced plans to (further) enter the crypto space, including the NASDAQ tech exchange, Ameritrade brokerage, and Japanese online retailer Rakuten.
Samsung surprised in late April by investing nearly $3 million into French hardware wallet maker, Ledger. Samsung was recently in the news for including an Ethereum crypto wallet in its latest mobile offering, the Galaxy S10. This move has led some to speculate that Ledger's proven wallet technology may be integrated into future mobile devices.
Microsoft's Azure Marketplace announced at the end of April that they're integrating Rootstock smart contracts. Azure acts as a marketplace for Microsoft's cloud computing apps and Rootstock is a smart contracting layer built atop Bitcoin. Azure integration will make life easier for Rootstock dapp ("distributed application") developers, who no longer have to setup and maintain local servers.
Politics
Making headlines in April was the arrest of Julian Assange in London. Assange has subsequently been sentenced to 50 weeks in jail, although whether he'll be extradited to America remains to be seen. In 2010, Bitcoin was used to donate to Wikileaks during the so-called Banking Blockade, when all other payment options were censored. It was therefore unsurprising that Bitcoiners again donated generously to Wikileaks in the light of Assange's arrest, sending over $40,000 to the organization's Bitcoin address during April.
In early April, the World Economic Forum released a report detailing the efforts of over 40 central banks who are investigating blockchain tech. Several are exploring the possibility of creating national fiatcoins. In somewhat related news, the International Monetary Fund's head, Christine Lagarde, said in a television interview that cryptocurrency is "clearly shaking the system." It's clear that the Grand Poobahs of the traditional monetary system are playing close attention to crypto.
In another sign of mainstream acceptance, France cleared the regulatory way for its life insurance companies to invest in crypto via special funds. The new bill also allows the $2 trillion industry to offer customers policies with crypto exposure.
Exchange Troubles
It just wouldn't be a month in crypto without exchange issues. The biggest issue in April was related to iFinex, the company which owns the major Bitfinex exchange and popular USD-denominated stablecoin, Tether. New York's Attorney General is alleging that iFinex redeployed funds meant to back Tether to fill holes in Bitfinex's balance sheet. Despite Bitfinex's top 10 volume figures and Tether's widespread use across crypto exchanges, the market reaction to this news has been surprisingly muted so far.